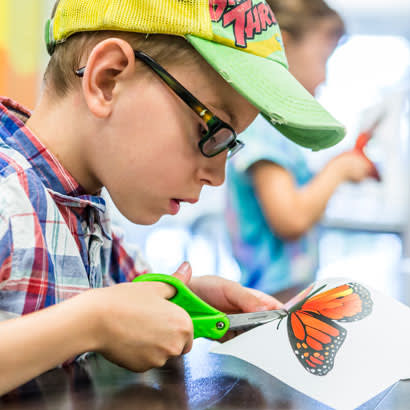 As the conversation shifts from summer programming to back-to-school, there are so many unanswered questions and unknown challenges that face park and recreation professionals. What will the role of out-of-school time programs be in supporting schools this year? What will out-of-school time programming look like? Does your agency have the capacity to host virtual learning pods? How do we navigate this new space defined by the COVID-19 pandemic?
Kaiser Permanente, along with a number of partners, has developed an interactive action guide focused on planning for the next normal at school, and how to keep students, staff, teachers and families safe and healthy. The guidance shared in this document outlines how we view school and out-of-school sites as crucial pieces of not only education and supervision, but also community anchors for social interaction, emotional support, nutritious meals and healthcare.
Although the guide was primarily designed with schools in mind, there are many takeaways that can help park and recreation professionals think through their expanded role this year. The guide walks practitioners through five chapters, each designed to think about key ways in which our world has changed during the COVID-19 pandemic, and how to move forward at your sites to prioritize the health and well-being of youth and families. While each chapter provides guidance on the challenges faced, recommendations for addressing each challenge, and action items for moving ahead, there are some key takeaways that park and recreation professionals should consider as they craft their plans this fall.
Acknowledge the impact of COVID-19 on the mental health of students and staff
As organizations strategize their reopening, it is critical to consider the impact of COVID-19 on the mental health of students, families and educators, and develop a plan to support youth, staff and families. Agencies should take time to:
Understand the impact of COVID-19 on students and educators — since early 2020, youth and families have been living through stressful and uncertain times.
Consider existing disparities and trauma — all of us have been impacted by COVID-19 in some way, and our most vulnerable community members have felt even greater impacts. Existing health and educational inequities have been exacerbated throughout the pandemic.
Develop a foundation of resilience — a focus on social-emotional behaviors, building a positive culture, and fostering connections with peers, adults and community is key to resilience.
Establish and enhance a prevention strategy during COVID-19
As organizations begin to reopen, developing a COVID-19 prevention strategy is essential in keeping your community safe. A prevention strategy should be developed and in accordance with the latest local government and public health guidance and should include the following components:
Identify deficiencies and inequities — understand the disproportionate impact of COVID-19 on Black, Latinx and Native American communities, the increase in stigma and hate crimes that Asian American communities are facing, and acknowledge the intersection of COVID-19 with other social stressors, like cases of racist police violence and civil unrest. Center a focus on equity in your prevention plan.
Build on existing CDC best practices and augment your prevention strategy — CDC and other national experts have outlined key clinical and behavioral components of COVID-19 prevention. Out-of-school time programs should build off this guidance and enhance your prevention strategy through staff trainings, family engagement, building strategic partnerships, strengthening communications and more.
Understand COVID-19's effect on the social drivers of health and build a network of support
Understanding the social drivers that impact the health of your community will play a crucial role in your reopening strategy.
Identify the social drivers of health — these are the conditions in which people live, learn, work and play (also referred to as the social determinants of health). This includes factors like housing, food security, economic opportunity, etc.
Understand the role of racism on social drivers — structural racism directly impacts the social drivers of health, creating inequities in living conditions, social and economic factors, access to healthcare, etc. These inequities have contributed to the disproportionate impact of COVID-19 on communities of color.
Establish a network of support and resources — evaluate school policies and programs and build partnerships to connect youth and families to needed social supports including access to healthy food, housing, mental health supports, workforce opportunities and more. Consider partnerships with local health and human services and social work organizations as you reopen.
Ensure physical activity and physical education are prioritized during COVID-19
As organizations begin to reopen, continuing physical education and activity will be essential in providing a well-rounded program, especially as many activities that get youth moving have been suspended since early 2020.
Understand the impact of COVID-19 on physical education — access to physical education and physical activity in communities has been limited with shelter-in-place orders.
Address existing disparities and inequities — low-income students and students living in neighborhoods without sufficient access to safe physical activity opportunities face existing challenges in meeting the recommended daily physical activity.
Incorporate social and emotional learning — use physical education to reinforce social-emotional learning, including teamwork, problem-solving, communications, goal setting and self-awareness.
Define physical activity and physical education — physical activity may look different in the return to programming and could include virtual programming, more individual activities, or a more intentional focus on integrating physical activity to improve mental health.
Focus on staff well-being
Supporting your staff's well-being is an essential piece of your reopening strategy.
Identify the existing challenges in the out-of-school time sector — increasing job demands, high levels of stress and burnout, and declining pay may be contributing to unsustainable working conditions.
Understand the impact of COVID-19 on staff and teachers — changing family dynamics, new public health measures, protecting vulnerable staff, creating a more diverse workforce, and preparing for economic uncertainly are all factors that out-of-school time programs need to consider.
Support a holistic approach to well-being — focusing on the physical, social and financial health of staff and supporting their career growth and connection to the community will be important when reopening.
This guide is a strong, non-prescriptive way to ensure you're taking steps to take care of yourself and the community you serve through your role as a park and recreation professional. Kaiser Permanente also plans to keep this guide as a living document, and feedback on the resource can be shared here.
Maureen Neumann is NRPA's Program Manager.