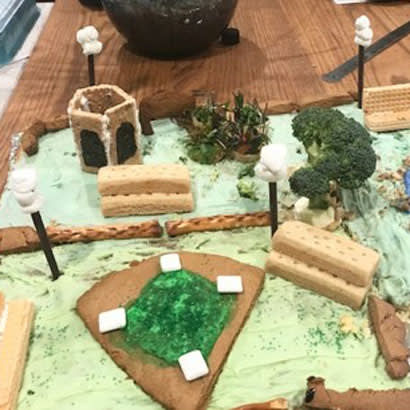 As this holiday season finds the NRPA staff spread throughout the United States, we wanted something that could close those miles between us. Park and recreation professionals are some of the most creative people out there, so it made sense to look to you all for inspiration. Boy, did you deliver!
Thanks to the inspiration given to us by the Durham Parks and Recreation: Play More! blog, we hosted our first annual Nailed It! NRPA-Style: Gingerbread Park competition!
We asked staff to create their version of a park or open space using edible components. They could go traditional gingerbread and candy, savory, or something completely different! The only criteria was the building materials must be edible components (even if not very appetizing — we're looking at YOU fruitcake lovers — haha). Also, competitors only had two hours to complete their creation and we allowed for children and family to help.
Staff got to vote in two categories: Best Edible Park and the Nailed It! Award. Winners were announced at our virtual holiday gathering. These masterpieces and their creators now hold a place in NRPA history as our first annual winners of Nailed It! NRPA-Style: Gingerbread Park. What could be more prestigious than that?
Here are just a few of the fantastic entries:
Thank you for the endless inspiration you all gave us this holiday season and throughout the year! We wish you all the best in 2022!
Melissa May (she/her) is NRPA's senior research manager.
Dianne Palladino (she/her) is NRPA's senior evaluation manager.