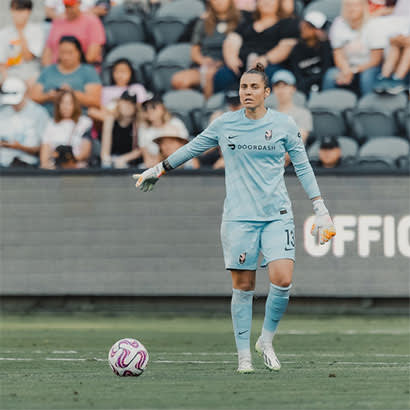 Pictured: DiDi Haračić, goalkeeper for Angel City FC, wearing a light blue kit and preparing to kick a soccer ball at her feet.
I am very excited for today's episode for a couple of reasons. First, if you've been listening to the show for a while, you know I haven't always been a solo host. Well, we have some exciting things happening and I'm very pleased to announce that one of my future co-hosts is making her debut on the podcast today.
Cara Myers is NRPA's marketing and engagement manager, and she joined the NRPA team recently, coming to us from the marketing team at City of Aurora Parks and Recreation in Colorado. So, a big welcome to Cara as one of our new Open Space Radio hosts!
I am also very excited to welcome today's guest, DiDi Haračić. DiDi is a professional soccer player (or footballer, depending on where you're tuning in from) and is the goalkeeper for Angel City FC in the National Women's Soccer League.
DiDi's professional career began in 2011, and she has since played professionally in the U.S., internationally, and with the Bosnia and Herzegovina Women's National Team. She joined Angel City FC in 2022, when she was named the club's most valuable player and supporters' player of the year. Aside from soccer, she is a very talented artist and photographer – and a generally cool individual.
Cara and I have been fans of Angel City and DiDi since I binging the entire Angel City documentary on HBO, so we highly recommend watching that, if you haven't already.
Tune in to the full episode below to learn more about DiDi and her journey as a professional athlete. You'll also learn:
The progress that has been made regarding women's equity in sports and the challenges that still remain
How participation in sports and other recreational activities shaped DiDi growing up
How sports can teach various life skills and have a positive impact on a person's self-confidence
How representation in sports at all levels breaks down gender stereotypes and promotes gender equity
Proactive steps park and recreation agencies can take to ensure equal opportunities and support for girls and women at all levels of competition, and much more!
Listen to the episode for the full story.
Related Links: