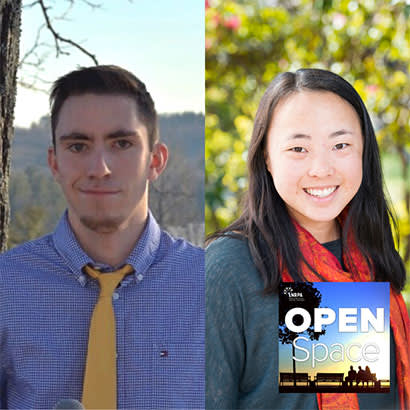 We often get to have conversations with park and recreation professionals who are doing incredible work in their communities. Many times, the guests who are gracious enough to join us on Open Space Radio are people who are already established in their careers. It's not every day, though, that we get to chat with college students who are studying the field of parks and recreation and who will soon embark on the exciting journey of entering a new career in the field.
On today's episode, we are thrilled to be joined by two inspiring students who are pursuing their degrees in fields related to parks and recreation and will be graduating this year. Joining us on the show today is Mary Elise Conzelmann, who received her bachelor's degree in recreation management from Humboldt State University in 2019 and will be receiving a master's degree in business management from Saint Mary's College of California this May. We're also excited to be joined by Sean Fitzpatrick, who will be receiving a bachelor's degree in sports and recreation management from Franklin Pierce University in New Hampshire this May.
We recorded this episode in late March, and we discussed how the coronavirus disease 2019 (COVID-19) pandemic has impacted each of their final academic years — both schools they attend have since transitioned to online classes for the remainder of the term.
Mary Elise and Sean also share why they each chose this path and the things they're looking for in a future career in parks and recreation — not necessarily the specific role they're looking for, but what they hope to be able to do in that role. They also give their thoughts on why parks and recreation is an essential community service.
Other topics we discuss on today's episode include:
The things they're doing to prepare for their future careers, such as internships, attending conferences and networking with current professionals
What park and recreation agencies should look for in prospective employees
What an employer should do to keep staff engaged
What someone should consider if they're early in their college career or thinking of going to school in a field related to parks and recreation
Resources like the NRPA Young Professional Network Facebook Group, Women in Parks and Recreation Facebook Group and NRPA Connect
Connect with Mary Elise on LinkedIn
Listen to the episode for the full story.