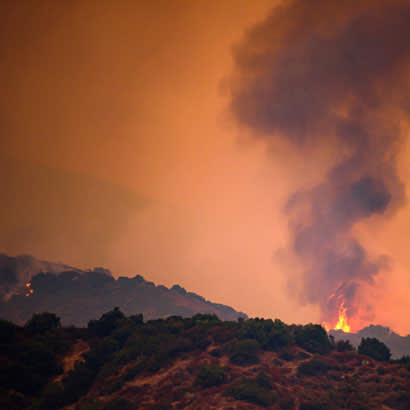 This blog post was last updated on September 14, 2020.
This summer, we have witnessed disasters, ranging from devastating hurricanes to relentless wildfires, that illustrate how climate change is continuing to expose more people to extreme weather. Our hearts are with everyone who is currently impacted by some of the worst wildfires in history that continue to burn in Oregon, California, Washington and many other states in the western part of the country. As of September 14, there were over a hundred active wildfires across 12 states, reducing over 4 million acres of land to ash. Hundreds of thousands of people have had to evacuate their homes, and some communities have effectively burned to the ground. At least 35 people have been reported dead.
Some of these wildfires were caused by people — in California, the El Dorado Fire started after a family used a pyrotechnic device as part of a gender reveal party for their new baby — but many of this year's biggest fires were sparked by dry lightning storms during one of the worst heat waves in history. In Oregon, some of the larger wildfires were accelerated by strong wind gusts, spreading the flames even more rapidly.
And, the flames aren't the only threat — poor air quality from the smoke is also a major concern, especially amid the COVID-19 pandemic. Poor air quality can not only worsen a person's symptoms who may be infected by COVID-19, but also cause more coughing if a person is exposed to the smoke, potentially making them more contagious. If you live in an area that is impacted by the wildfires, be sure to check out AirNow from the Environmental Protection Agency, which has a lot of helpful resources regarding air quality and how it can affect your health.
The Impact on Parks and Recreation
The boundaries of the Willamalane Park District in Oregon are only a few miles from the Holiday Farm Fire, which has grown to about 145,000 acres and is still zero percent contained even though firefighters are seeing a bit of success as winds have begun to die down. The Willamalane Park District is currently closed, as many of the parks its staff oversees are at a high risk of being impacted by the fires. According to Kenny Weigandt, the community engagement program manager for Willamalane Park District, the Thurston Hills Natural Area in Springfield, Oregon, is one of the most threatened areas and the communities that surround it could face a lot of danger if the fires reach the site that boasts over 600 acres of land dedicated to recreation and habitat restoration.
Like many other agencies that have been affected, the staff at Willamalane Park District is doing everything they can to help during a time when many feel completely helpless. They opened some of their facilities to become temporary smoke shelters, but as the air quality continued to decline, the park district was forced to close them. The staff has been in contact with the Red Cross in the case that congregate shelters are needed. To support the Willamalane Park District during this challenging time, consider making a donation to the Willamalane Park Foundation if you are able.
Over the last several months, we've seen the willingness of park and recreation professionals to step in and help in any way they can in the face of multiple crises, and right now, many of your park and recreation colleagues — like the ones at Willamalane Park District — need your help. While many parks and facilities in the impacted areas have been closed, park and recreation professionals are working tirelessly to keep their communities as safe as possible. But, given the large number of uncontained fires in these areas, resources are dwindling fast. As we reach out to other member agencies that are impacted by these wildfires and learn what their immediate needs are, we will be providing you with updates on how you can help.
How You Can Help Right Now
Here are some ways you can help those affected by the wildfires right now:
Make a financial donation to trusted organizations if you are able.
There are many nonprofit organizations that are responding to the impacts of the wildfires that you can support through a financial donation:
Donate blood.
Blood donations are essential to ensuring the health of communities, especially during and after a natural disaster. You can find a local blood drive through the American Red Cross here.
Volunteer if you live near an affected area.
Opportunities to volunteer will likely become greater once areas affected by the wildfires enter the recovery phase. The Red Cross is always seeking volunteers for disaster relief efforts, but places of worship and local disaster relief organizations are also likely to provide volunteer and recovery opportunities.
Look out for our furry friends.
Whether species are being displaced from their natural habitat or people need emergency shelter for their pets, animals are impacted by these wildfires, as well. RedRover has a list of emergency animal shelters and resources for pet owners — you can make donations to many of these, as well. The Humane Society is another trusted organization that helps animals in need.
Reach out.
Is your agency currently affected by the wildfires? Email me and let me know how NRPA may be able to help or consider reaching out to your colleagues on NRPA Connect. If we've learned anything throughout the COVID-19 pandemic, it's that communication and collaboration are key in the face of a crisis, and the wildfires that are burning in the west are no different. We are parks and recreation, and we not only need to support our communities, we also need to support our colleagues across the country who are in need.
We will keep a close watch on the situation as it evolves, but one thing is certain: parks play an essential role in building climate resilient communities, and as we see the devastating effects of climate change before us, park and recreation professionals will be at the center of addressing the impacts.
Cort Jones is NRPA's Communications Manager.