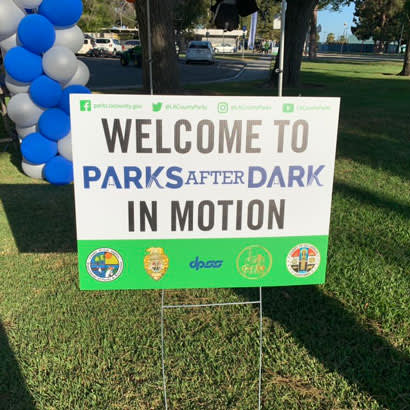 During the COVID-19 crisis, we have been asked to stay home as much as possible, but we can walk or bike in our neighborhoods, including nearby parks, as long as we practice physical distancing and wear face masks or coverings. Having convenient access to parks is critical for our physical and mental health and well-being, especially during these trying times — and particularly for those without reliable transportation. In Los Angeles County, most parks have stayed open during the pandemic, but certain amenities like playgrounds and outdoor exercise equipment have remained off-limits, and in-person recreational programming has been suspended.
With the pandemic and associated public health orders limiting in-person gatherings, the Los Angeles County Department of Parks and Recreation (DPR) is unable to offer its highly popular, award-winning Parks After Dark (PAD) program this year as it had done since 2010. However, recognizing the needs and desires of community members to be physically active and recreate outdoors, DPR has initiated the PAD in Motion program, through which it closes off park-adjacent streets for residents to safely walk and ride. Specifically, this initiative provides community members — especially families with children — opportunities to walk and ride their bikes, scooters and skateboards along a designated route around and within their local park. For everyone's safety, participants are asked to wear protective equipment and a face mask or covering. PAD in Motion is offered at ten parks in various unincorporated communities in Los Angeles County every Thursday evening from 5:00 p.m. to 8:00 p.m. and Saturday mornings from 8:00 a.m. to 11:00 a.m. through early to mid-October (depending on the park location).
The original PAD program extended hours of park operation from 6:00 p.m. to 10:00 p.m. at selected parks and offered family entertainment, sports and recreational activities, cultural and educational programming, and employment and volunteer opportunities for youth and adults. While different, PAD in Motion seeks to achieve many of the goals of PAD which include:
Increase access to quality recreational programming and innovative services;
Increase collaboration among different stakeholders;
Decrease community violence and increase the perception of safety;
Increase physical activity and decrease chronic disease risk;
Increase social cohesion and family bonding; and
Achieve cost savings.
Like the original program, PAD in Motion is also offered in coordination and collaboration with various partners, including the Los Angeles County Board of Supervisors, Chief Executive Office, Probation Department, Department of Public Social Services and several community-based organizations.
PAD in Motion is also a form of open street program, which has grown in popularity in Southern California and across the U.S. Essentially, open streets initiatives temporarily close streets to automobile traffic and open them to cyclists, pedestrians and other modes of non-motorized transportation. This is an increasingly common strategy in cities and regions that are seeking innovative ways to promote more sustainable modes of transportation, reduce traffic congestion, achieve economic and public health improvement, and now provide more space for recreation during the COVID-19 pandemic.
With a focus on local neighborhoods, PAD in Motion does not consist of lengthy routes that stretch across multiple communities like CicLAvia events do, but the program offers some of the same benefits. Specifically, these benefits include encouraging residents to be physically active by providing additional space for walking and bicycling, facilitating family bonding time, and improving actual and perceived public safety by having more eyes on the street and eliminating vehicular traffic while the program is running. Also, the parks and streets included in PAD in Motion were selected thoughtfully and strategically, prioritizing unincorporated communities with a very high or high level of park need per the 2016 Countywide Parks Needs Assessment, and taking into consideration factors such as roadway classification and location in relation to park entrances and the need for a variety of sites to serve residents across L.A. County.
COVID-19 has impacted all park and recreation agencies and each one of us. We need to be flexible, creative and proactive in order to continue serving our communities effectively. PAD in Motion is an example of how a highly successful existing program can be modified during a pandemic to still meet the recreational needs of residents and achieve various community benefits.
Clement Lau, AICP, DPPD, is a Departmental Facilities Planner with the Los Angeles County Department of Parks and Recreation.