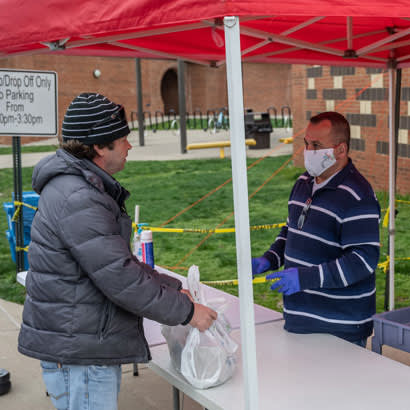 On Monday, March 16, I went in to work at the Georgetown Recreation Center to find what is usually a packed parking lot with only 8-10 cars. Tuesday rolls around, and I was deemed an essential employee and must report to work. I felt pumped up by the fact that "I am an essential employee," preparing budgets, evaluating programs, communicating with the public and other essential responsibilities. However, those responsibilities quickly faded away when I arrived at the recreation center the following morning and saw only three cars — one of them mine. Wow, I thought, it is truly amazing how fast the nature of our jobs can change. The countless questions, fears and doubts began to creep in. As I made my way to the front door through a mostly empty parking lot, one question stuck with me: What does it mean to be ESSENTIAL?
Prior to the Coronavirus Disease 2019 (COVID-19) pandemic, parks and recreation was reaching incredible new heights. Leon Younger, with Pros Consulting, says, "The state of the industry was in a great position. There were lots of new opportunities for communities, programming growth, planning, capital dollars for new projects, renovations, new jobs, and employment."
Marketing and technology were being utilized at a level never seen before in the field. Families and people of all ages were recognizing the impact a quality park and recreation department had on the community. People were inquiring about the quality of park and recreation departments when it came to determine where the right relocation spot might be for their family.
In addition to an increase in funding and popularity, a new generation is injecting fresh talent into the field. For the first time, the number of generations working together side-by-side is as large as it has ever been. Baby Boomers are saying their farewells, while eager Millennials are chomping at the bit to climb the career ladder and make improvements. To the pioneers of our profession, thank you for reminding us of our essential service. The leadership and guidance of older generations has created a fruitful landscape for the new generations. The utilization of technology, innovation, virtual communication and programming will be at the forefront for our leaders moving forward. However, the patience and discipline of those that came before us will ultimately be the ingredients that will create the right blend to make the most significant impact.
Whether you were told to stay home or claimed the name "essential employee" and reported to work, the fact of the matter is you are essential, and parks and recreation is vital to our communities and our country. Parks and recreation hasn't always been deemed essential, though. Departments in almost every community struggle with the tug-of-war for funding and acknowledgment. Matt Bogsness, Director of Vinton Parks and Recreation in Iowa, says, "Parks and recreation is the ultimate Swiss Army Knife. We will always be able to get programs and services to our people, but it is getting the right people to execute them. It is as essential as police and fire in the community."
The new decade started in a way that no one could have predicted. For me, I needed to stay anchored into three things that give me direction: simplicity, clarity and certainty. What does that mean for parks and recreation? Simply stated, provide services and connect with your community. Be clear about how you support each person you encounter. Be certain that parks and recreation is more essential now than it has ever been. Now is the time to be essential, take the step forward, and change your thinking about how this time can be a time of action. Our communities need us. The parks and recreation community can take the lead and positively impact the days ahead.
Sometimes, all people need is permission. I am not talking about permission to purchase supplies or permission to attend a conference. I am talking about permission to dream. The unemployment rate has skyrocketed, and if we reimagine ourselves, we can generate momentum for our field and create more jobs. I'm calling on all of you that have remarkable ideas and always hear, "No!". Your creativity and ideas are not only needed, but they are also essential. Let's design facilities and parks that promote health and exercise with proper safety and health guidelines. Let's ask our teams to create and innovate new programs and services to adapt to this new reality. The show must go on. We exist to serve the community. Mark Alan Young, with Parks Forever, loves the idea of giving people "park prescriptions," saying, "Let's prescribe people to spend more time connecting with parks."
When do we start preserving green space and natural features of our communities? NOW! The importance of trails, parks and nature has never been more essential than now. Tom O'Rourke, of Clemson University, says, "We need to share our message and tell our story." Leon Younger, of Pros Consulting, continues with, "The media is going to demonstrate their concern for people's safety, and we should as well by delivering a message of our efforts to demonstrate cleanliness and safety to all participants who use our parks. Let's get people excited about going out again."
It is our duty, as the parks and recreation community, to ensure equitable access to quality programs so that all people can lead a healthy lifestyle. My parks and recreation friends, we are essential, and we have hope to provide. It's time to look at the challenges that are facing our communities straight in the eye and recognize that parks and recreation is essential to bringing our country back and fighting for those facing social, mental and physical challenges. Ron Vine of Ron Vines Associates suggests, "We must enhance our skillset within healthcare and learn how to incorporate medical professionals into programs and services."
Essential parks and recreation family, you have everything you need; you have permission to dream. Spread your wings and take the leap. Youth, adults, older adults, wildlife, parks, trails, programs, the sick, the healthy, happy, depressed and hopeless — they all need you. Why? Because you're essential. Jeff Stewart, Director of Johnson County (KS) Parks and Recreation recognizes the role parks and recreation can play, "The opportunity we have is huge. We can show what we do, how we do it, and the impact it has. Parks and recreation, by golly, is essential! For our citizens, park and recreation services are at the very top in terms of importance." Parks and recreation is more than just providing, but rather leading people to a better life through extraordinary experiences.
I would like to thank all the professionals that contributed their time and insights to make this message possible. If you are interested in continuing the conversation or collaborating on ideas, please contact me.
For more information about NRPA's response to COVID-19, as well as available resources for park and recreation professionals, please see our Coronavirus Disease 2019 (COVID-19) webpage.
J.J. Lillibridge is the Recreation Supervisor for the City of Georgetown Parks and Recreation.
Pictured above: In Berea, Kentucky, the local park and recreation department works to distribute food to those in need during the COVID-19 pandemic. Photo courtesy of Berea College.