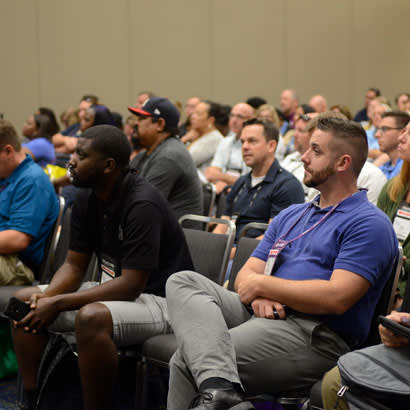 You don't have to be a quinoa-loving health nut to dive into these great health and wellness sessions offered at the NRPA Annual Conference this year. We did the hard work for you and picked our top choices for sessions that will help you engage your community, partners and stakeholders in your health and wellness offerings. We even went as far as breaking them out into sub groups for you.
Partnerships and Relationships
If you're looking to grow relationships between your agency and your community, check out our sessions focused on finding, creating and strengthening partnership opportunities.
Green Schoolyards Meet Health and Shared-Use Opportunities for Partnerships
Tuesday, September 25 | 2:35 PM - 4:50 PM | Room: 144
Many cities are looking to add more park space through shared-use agreements with school districts so that their residents have parks within a 10-minute walk. Participants will hear how a park department and child health nonprofit came to engage in green schoolyard programs in Grand Rapids and Chicago.
Transition from Recreation Center to Centers of Health and Wellness: A Public Private Partnership
Wednesday, September 26 | 4:15 PM - 5:30 PM |Room: 205
This session will highlight what happens when a local health care system and a park and recreation department "collide" for the benefit of community health.
Promoting Evidence-Based Chronic Disease Prevention and Management Programs Through Innovative Community-Healthcare Linkages
Thursday, September 27 | 1:30 PM - 2:45 PM | Room: 207
This presentation will highlight an innovative community-integrated healthcare partnership approach that not only increases participation in chronic disease evidence-based programs, but improves the way in which healthcare providers and community-based organizations work together to deliver coordinated care to older adults to promote healthy aging.
Community Wellness
Interested in making your agency and programs wellness centers for your whole community? These sessions on healthy, safe and active living opportunities and empowering your community to make healthy decisions are right up your alley!
Empowering Youth Impacted by the Opioid Crisis: Providing a Safe, Supportive Environment and Your Rec Centers
Tuesday, September 25 | 4:10 PM - 5:25 PM | Room: 138/139
In this session you will hear from three park and recreation agencies on innovative and effective strategies in offering recreation programs that provide a safe space for youth to build relationships and improve their social and emotional competence, critical skills in preventing substance use among youth.
Commit to Health: Four Years of Eating Healthy, Moving More and Transforming Communities
Wednesday, September 26 | 2:30 PM - 3:45 PM | Room: 140
In this session, hear how more than 1,650 local park and recreation sites since 2014 have implemented the Healthy Eating and Physical Activity standards through NRPA's Commit to Health campaign, impacting more than 293,000 children annually with increased access to nutritious foods and increased opportunities for physical activity.
'Play Spaces for All': Evaluating the Impact of NRPA and Disney's Play Space Grant Program for Underserved Areas on Park Use and Physical Activity
Wednesday, September 26 | 2:30 PM - 3:45 PM | Room: 144
A key component of Meet Me at the Park, NRPA's play space grant program in partnership with the Walt Disney Company, is an evaluation that will measure how improving access to play spaces changes how often people visit parks and play spaces, and what impact the improvements have more broadly on communities.
Social Equity
At NRPA, we believe everyone, regardless of age, race, gender, or religion, deserves equal access to the benefits of parks and recreation. If your agency is with us on this mission, join us for a session centered around equity and addressing disparities in your community.
Parks for Inclusion: Working Towards Health Equity for our most Vulnerable Populations
Tuesday, September 25 | 2:35 PM - 3:50 PM | Room: 116/117
NRPA's Parks for Inclusion initiative was launched one year ago with the goal of improving health and wellness opportunities for our most vulnerable populations. Hear from agencies and organizations that are using their park and recreation services to establish more inclusive, equitable and just communities through policy, programming, leadership and engagement.
Healthy Eating for Healthy Aging: Combating Hunger and Improving Nutrition for Older Adults
Wednesday, September 26 | 4:15 PM - 5:30 PM | Room: 140
Food insecurity- the inconsistent access to a sufficient quantity of affordable and nutritious foods for active and healthy living- is a growing crisis among all Americans, but has increased by more than 65 percent among older adults in the last 20 years. Learn what park and recreation agencies can do to combat hunger and improve nutrition for older adults at their rec centers.
Addressing Rural Health Disparities Through Healthy Food Access
Thursday, September 27 | 9:45 AM - 11:00 AM | Room: 208
This session will provide an overview of rural health disparities and the unique challenges that rural communities face in terms of economic stability, education, health and health care, social and community context, and built environments.
Mobile Workshops and Off-Site Institutes
Prefer to partake in education outside of the classroom? Check out these sessions taking place around our host city! These sessions are not included with conference registration. To sign-up, please select it during the conference registration process or go back and add it on by logging into the registration site.
Cross-Disciplinary Partnerships to Create Healthy, Equitable, Safe and Connected Communities
Tuesday, September 25| 1:00 PM - 4:15 PM | Off-Site
This Mobile Workshop will provide in-depth education and training on two of NRPA's premier healthy communities initiatives: the Joint Call to Action to Promote Healthy Communities and Safe Routes to Parks. The session will detail collaborative opportunities available by engaging across disciplines, and introduce the SRPT framework and its application in Terre Haute, Indiana.
Trails, Health and Indiana's Plan
Thursday, September 27 | 8:00 AM - 1:15 PM
Indiana boldly adopted a plan in 2006 to create a trail within 15 minutes of every Hoosier for enhancing health, livability, and economic vitality of the State. The result has been a significant investment in bike and pedestrian trail development from less than 150 miles in the early-2000s to over 1,500 miles in 2018.
Farming in Parks: Indy Urban Acres
Thursday, September 27 | 9:45 AM - 2:00 PM
Come till the soil with NRPA's public policy team at Indy Urban Acres – a project of the Indianapolis Parks Foundation! Learn how using your park land for farming and community gardening can position your agency as a key agricultural partner in your community.
We can't wait to see you in Indy at these great sessions (and more)! For a peek into what to expect from these health-focused discussions, check out this blog from NRPA's 2017 Conference.


Maureen Acquino is a Program Specialist for NRPA.