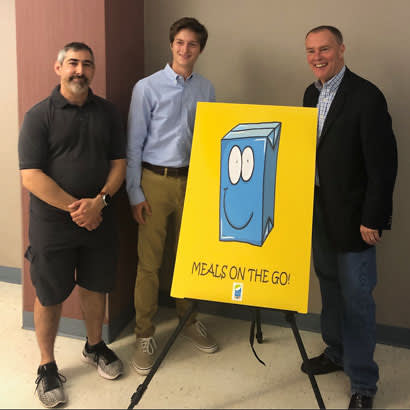 During the summer months and after school, over 15 million students across the country go hungry because they do not have access to nutritious meals. These are children who depend on federal nutrition programs to support their diet with a free, healthy breakfast and lunch during the school year. Access to healthy food for children should not be viewed as a privilege, but a human right. So I decided to take on this challenge!
I have always loved the television show Shark Tank, and during the summer of 2016 I participated in a three week entrepreneur class called Innovators Institute. The class gives high school students a crash course in solving real world problems under the mentorship of some of the top business leaders in the community. Milele Kennedy, Manager of Food and Community Programs for Indy Parks and Recreation (IPR) in Indianapolis, Indiana, came to the class and shared her problem with the students.
After school and during the summer months, IPR provides free, nutritious meals to children 18 years of age and younger. In Marion County alone, IPR provides meals to over 200,000 children in 223 different locations. However, they were seeing a decline in the number of meals distributed and only 20 percent of eligible families were taking advantage of the available food. The food is readily available, but the children had limited access to existing food sources. Knowing the amount of time kids spend on their phones, I knew that a mobile app would be the easiest way to reach the kids, as well as their parents.
I designed the layout of the user-friendly app after talking to over 30 eligible students. Then, Auri Rahimzadeh, owner of Auri's Ideas, wrote the app as a pro bono project. The app is called "Meals on the Go," and includes a Google Map giving children directions to the meal site closest to their residence, times and dates meals are served, as well as a daily menu and nutrition facts. The app is available on Apple platform and is free to all students and parents.
I have appeared on television four times to promote my app. During the summer of 2019, Auri and I appeared on television with Major Joe Hogsett of Indianapolis to release the app to everyone in the community. My legacy will be my compassion for underprivileged children and my desire to ensure that no child goes hungry.
Please contact me or Auri if you'd like to learn more about the app.