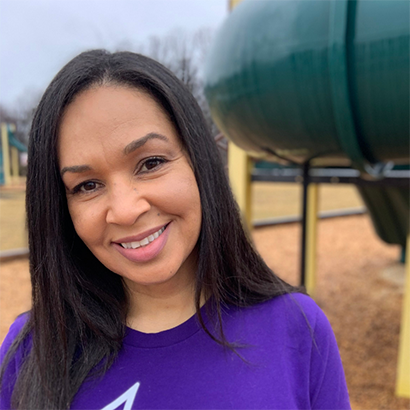 Pictured left: Lysa Ratliff, CEO of KABOOM!
One of the core elements of parks and recreation is not something super profound or complicated, but it is absolutely essential. When we get down to it, parks and recreation is about play. Play is an essential component of learning, development, creativity, connection, health and well-being, and so much more – and especially for kids.
But, the reality is that there is a long history of Black, Indigenous and people of color being systemically excluded from, or made to feel unwelcome in, spaces like parks and playgrounds – the primary places people go to play. This history has created barriers that have for many years denied kids in many communities the benefits of play, as well as perpetuated inequities in access to these spaces.
One organization that is working to end playspace inequity for good is KABOOM! KABOOM! unites with communities to build kid-designed playspaces that can spark joy and foster a sense of belonging for the kids who are often denied opportunities to thrive.
Being that KABOOM! and NRPA are very much aligned in centering equity in all we do, I'm so thrilled to welcome Lysa Ratliff, CEO of KABOOM!, to the show today to chat a little bit about her passion for play, the importance of community engagement, and a whole lot of other great things going on with KABOOM!.
Tune in below to learn more about Lysa and KABOOM!, as well as:
KABOOM!'s thoughtful approach to community engagement.
The benefits that KABOOM!'s playspaces are providing in the communities they work with.
Why Lysa believes "Play is the currency of humanity."
How KABOOM! is working with local park and recreation agencies on the ground in local communities.
How partnerships play a role in the impact KABOOM! is making, and more!
To learn more about KABOOM!, click here.
Listen to the episode for the full story.