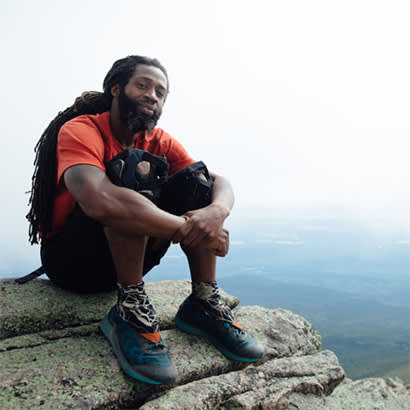 I am so excited for today's episode because I'm talking with someone I have been eager to connect with since NRPA's partnership with Merrell began. If you visit today's guest's website, the words "Nothing But Good Vibes" might be the first thing you notice. And, if you're following him on social media, you are sure to pick up on some of those good vibes, as well.
Will "Akuna" Robinson is one of Merrell's ambassadors, and his outdoor recreation journey began in 2016 when he attempted to thru-hike the Pacific Crest Trail to help with PTSD from his previous military service.
Akuna says that he fell hard for hiking, nature and the community that surrounds the trails. His journey has evolved into sharing the healing power of nature with veterans, people of color, and everyone who does not fit the stereotype of being "outdoorsy."
Tune in to our full conversation below to learn more about Akuna's journey to healing and community-building through hiking. We also discuss some of the findings from Merrell's Inclusivity in the Outdoors Report and how they relate to his own experience of spending time outside. You'll also learn:
How Akuna's journey of sharing the healing power of nature began
The message he tries to leave behind wherever he goes
Perceptions of inclusion and safety in the outdoors within the Black community
How we can continue to break down barriers so that everyone can experience the power of outside
How Akuna hopes to inspire other Black people who are considering outdoor recreation
Akuna's favorite ways to get outside, and so much more!
Related Links:
Listen to the episode for the full story.
You can also listen to Open Space Radio on Spotify, Stitcher, iHeartRadio and other podcast services.

This episode is sponsored by Merrell's "Good things come to those who hike" campaign. The real magic of hiking is about the moments that happen along the way. Each hike, another discovery. Another moment that we can share, remember and relive as we move through our lives. Those are the good things that come to those who hike. Visit www.Merrell.com and start discovering your #goodthings when hiking.