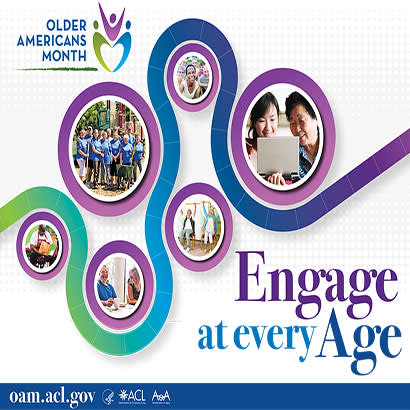 Every day across the United States, older adults (ages 60 and older) are sharing their wisdom and experiences with future generations, reinventing themselves to remain vital contributors to their communities, and are giving back to enrich their communities. They are volunteering, mentoring, and at least 19 percent (21 million) are still among the labor force. This rapidly growing population is estimated to reach 74 million by 2030, representing 21 percent of the total U.S. population. At that time, 1 in 5 Americans will be an older adult.
Since 1963, Older Americans Month (OAM) has been observed to recognize older Americans and their contributions to their communities. Led by the Administration for Community Living's (ACL) Administration on Aging, every May offers the opportunity to hear from, support and celebrate our nation's older adults. More than ever before, older Americans are striving for wellness and taking part in activities that promote wellness and social connection, focusing on independence, and advocating for themselves and others. This year's OAM theme, "Engage at Every Age," emphasizes the importance of participating in activities that enhance physical, mental and social well-being, no matter where you are in life.
As major providers of programs and services for older adults in communities across the country, parks and recreation plays an important role in providing resources to older Americans to help them lead healthy lifestyles, reinvent themselves and give back to their communities.
Throughout the month of May, join NRPA and other local park and recreation agencies in celebrating Older Americans Month by:
Sharing selfies (or groupies) of how you are engaging older adults
Share stories of older adults and their take on this year's theme, "Engage at Every Age"
Host celebratory, volunteer and educational community events like a festival, networking gathering, health fair or workshop.
For materials and ideas for how you can celebrate OAM visit Older American Month 2018 and be sure to share your activities on social media by using the hashtag #HealthyAginginParksOAM18.
Lesha Spencer-Brown, MPH, CPH manages NRPA's Healthy Aging in Parks Initiative.