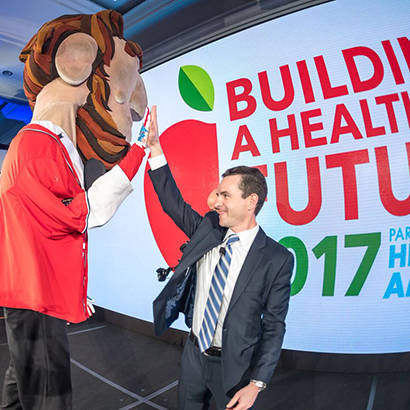 Last week, NRPA's Health and Wellness Department attended the Partnership for a Healthier America's (PHA) 2017 Building a Healthier Future Summit in Washington, DC. This annual event brings together nonprofits, government agencies, academic institutions and corporations that are all committed to ending childhood obesity. The summit was a great opportunity for NRPA to learn about new best practices in the field, collaboration with public-private partnerships, and new research and data around the progress already made and the areas in which more work still needs to be done.
In a year where school nutrition standards have come under fire, despite the fact that bottled water outsold sugary beverages for the first time in the United States in decades, the conference was filled with passion and energy from health advocates across the country and from all sectors.
A few highlights included keynote addresses by former President Bill Clinton and former First Lady Michelle Obama, reaffirming their commitment to the health and wellness of all Americans. Obama, in particular, encouraged the new administration and Congress to take politics out of the equation and urged that the health of our children should not be a partisan issue, but a goal of any parent and individual.
Another highlight from the summit was the extraordinary and diverse set of breakout sessions offered. One session of note was "Hurdling Barriers: Physical Activity and Girls of Color." This session discussed the unique cultural barriers girls of color face in accessing opportunities for movement and play. Co-founder and CEO of GirlTrek, T. Morgan Dixon, was one of the panelist speakers. GirlTrek is the largest public health nonprofit for African-American women and girls in the United States, and encourages women to mobilize their communities around walking for physical and emotional health. GirlTrek is an excellent example of a dynamic partner organization NRPA was able to connect with at the summit, and we encourage all park and recreation agencies to work with partners like GirlTrek locally, especially in order to help promote physical activity in diverse communities.
Another high point of the conference came as NRPA was honored as a finalist for PHA's Partner of the Year Award. At NRPA, we know that park and recreation agencies are the leading providers of health and wellness in their communities. By offering safe and accessible places for people to be active, encouraging families to move more, and providing healthy living education and meals for underserved youth, parks and recreation have a critical role to play in fighting the childhood obesity crisis.
Recognizing the critical role that parks play, NRPA has been connected with PHA since 2014, when we launched our Commit to Health campaign. Commit to Health encourages local agencies to create healthier environments in their out-of-school time (OST) programs by implementing a set of nationally recognized Healthy Eating Physical Activity (HEPA) standards. Since 2014, 1,250 park and recreation sites have successfully implemented the standards, increasing access to healthier foods and providing additional opportunities for kids to be physically active. In fact, 97 percent of all sites are ensuring that children are meeting the daily physical activity requirements and exercising outdoors whenever possible.
From a nutrition perspective, we've seen reductions in the availability of full-fat dairy products and an increase in the availability of fruits and vegetables at meals and snacks. In addition, in direct correlation with national trends, 95 percent of sites are providing drinking water at all times, while 82 percent prohibit full-calorie soda from being accessed during program times. We are proud of the progress that local agencies have made over the past three years, yet we know that there is still more work to be done. NRPA is dedicated to reaching our goal of engaging 2,000 sites in this work. We want every child, in every community, to have access to the best possible health and wellness outcomes. Join the movement today!
By attending this year's Building a Healthier Future Summit, NRPA was inspired by the renewed commitment from attendees to continue the critical work of ending childhood obesity in the United States. While progress has certainly been made over the past several years in federal policies and program regulations, the work continues outside of the government. We look forward to our continued collaboration with organizations like PHA, GirlTrek, and so many others committed to obesity and chronic-disease prevention in communities across the country.
Allison Colman is NRPA's Program Manager.
Kate Sims is NRPA's Government Affairs Manager.
Photo Credits: Partnership for a Healthier America