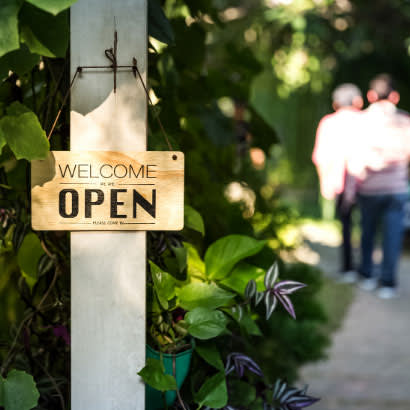 The NRPA Parks Snapshot provides the latest data on how park and recreation leaders from across the country are confronting the Coronavirus Disease 2019 (COVID-19) pandemic. I hope you find this information helpful as you make decisions at your agency during this uncertain time, while continuing to follow the guidance provided by your local and state governments and health officials, as well as the Centers for Disease Control and Prevention (CDC).
We will continue to provide weekly data from the NRPA Parks Snapshot survey, as state and local guidance and ordinances regarding COVID-19 are changing rapidly.
Among the key findings from the June 10-12 survey:
What's Open/What's Closed
In the two weeks since the previous Parks Snapshot, we have seen an increased number of park and recreation professionals opening more amenities to the public. This includes keeping open or opening all their trails (98 percent), parks (local parks: 92 percent; regional parks: 92 percent) and community gardens (89 percent).
Other amenities that agencies have fully opened across the nation include:
Golf courses (96 percent)
Tennis courts (88 percent)
Dog parks (89 percent)
Beaches (82 percent)
Skateparks (79 percent)
Temporary restroom facilities (64 percent)
Campgrounds (57 percent)
Outdoor sports fields (59 percent)
Permanent restrooms at outdoor amenities (52 percent)
While more and more amenities and facilities are beginning to open, the following park and recreation amenities have remained closed at most agencies:
Senior centers (93 percent)
Drinking fountains (63 percent)
Indoor gyms (62 percent)
Recreation centers (61 percent)
Playgrounds (53 percent)
Pools and Group Reservations
As the public looks to their local park and recreation agency to stay cool this summer, 22 percent of agencies currently have all outdoor pools open. Further, 24 percent of agencies have opened some of their pools and have plans to open others later this summer, while 9 percent have opened a select number of pools but will keep others closed throughout the summer. Currently, 26 percent of agencies have all indoor pools/aquatic centers open, while one-third of agencies have opened some but not all of their indoor pools/aquatic centers. When it comes to splash pads, 58 percent of park and recreation agencies will keep all of them closed for the summer.
One way that park and recreation leaders are promoting physical distancing is to require reservations for any groups planning to congregate at their parks and other open spaces. Currently, 46 percent of agencies require reservations for groups planning to congregate at their parks and other open spaces, with another 11 percent of agencies planning to implement a reservation requirement in the future.
Summer Sports
Many park and recreation agencies are offering youth sports opportunities in their cities, towns and counties this summer with modifications to promote physical distancing (e.g., rule changes to reduce contact).
The following select sports leagues, typically offered in the summer, are available:
Individual sports leagues (73 percent, including 43 percent with modifications)
Team sports leagues (69 percent, including 47 percent with modifications)
Travel sports leagues (57 percent, including 34 percent with modifications)
Adaptive/inclusive sports leagues (53 percent, including 35 percent with modifications)
Face Coverings
Many jurisdictions have guidelines requiring (or at least recommending) the use of face coverings when outside the home. Similarly, most park and recreation agencies advise or require the use of face coverings in the spaces they manage, including:
Athletic fields (60 percent advise, 5 percent require)
Parks (58 percent advise, 8 percent require)
Dog parks (58 percent advise, 8 percent require)
Trails (54 percent advise, 5 percent require)
Indoor facilities (48 percent advise, 42 percent require)
Outdoor pool facilities (49 percent advise, 18 percent require)*
Playgrounds (47 percent advise, 6 percent require)
Beaches (46 percent advise, 9 percent require)*
Indoor pool facilities (39 percent advise, 27 percent require)*
*Note: face coverings should not be worn while swimming.
Equity
Ensuring safety and accessibility to services for the most vulnerable in our communities has always been a top priority for park and recreation leaders, but the COVID-19 pandemic has made this need even greater. The top measures to ensure equity is considered during the development and implementation of park and recreation reopening plans include:
Ensuring that access to recreational activities and park infrastructure is reopened in an equitable manner
Ensuring that communications about COVID-19 are inclusive and reach under-resourced communities
Ensuring that policies and protocols for monitoring physical distancing and public health measures are equitable (e.g., requiring ambassadors to take anti-bias training and enforcing policies equitably, such as issuing citations across all communities in the same way)
Connecting vulnerable community members to social services, healthcare and other needed services
In addition, here are highlights of the survey results from specific segments:
The full results of the survey include verbatim comments shared by park and recreation leaders across the nation on their agencies' experiences in confronting COVID-19. This is an uncertain time with many unanswered questions, and we encourage you to continue the conversation with your colleagues around how your agency is confronting COVID-19 on NRPA Connect.
For more information and to see results from additional surveys, visit NRPA's Parks Snapshot Surveys webpage.
For more information about NRPA's response to COVID-19, as well as available resources for park and recreation professionals, please see our Coronavirus Disease 2019 (COVID-19) webpage.
Kevin Roth is Vice President of Research, Evaluation and Technology at NRPA.