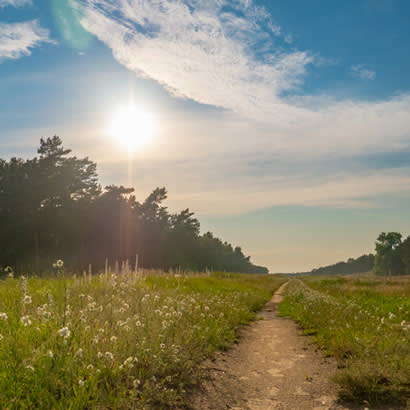 The NRPA Parks Snapshot provides the latest data on how park and recreation leaders from across the country are confronting the COVID-19 pandemic. I hope you find this information helpful as you make decisions at your agency during this uncertain time, while continuing to follow the guidance provided by your local and state governments and health officials, as well as the Centers for Disease Control and Prevention (CDC).
We will continue to provide weekly data from the NRPA Parks Snapshot survey, as state and local guidance and ordinances regarding COVID-19 are changing rapidly.
Among the key findings from the April 29-May 1 survey:
What's Open/What's Closed
This week, there was a small uptick in the percentage of park and recreation leaders indicating that all of their agency's trails (91 percent), parks (local parks: 77 percent; regional parks: 73 percent) and community gardens (70 percent) are open.
Most agencies are keeping closed all of their:
Campgrounds (81 percent)
Basketball courts (77 percent)
Permanent restrooms (74 percent)
Tennis courts (and other racket sports) (62 percent)
Outdoor sports fields (61 percent)
Beaches (61 percent)
Temporary restrooms (59 percent)
Dog parks (54 percent)
Path to Recovery
Many park and recreation leaders are developing plans for the reopening of their facilities and programs as conditions permit, with most expected to follow a phased opening strategy. The most commonly cited amenities and program offerings anticipated to be part of the first phase of reopening are:
Restrooms that are currently closed (48 percent)
Outdoor sports fields/courts that are currently closed (43 percent)
Picnic areas, including grilling, shelters and pavilions (40 percent)
Playgrounds (37 percent)
Golf courses (33 percent)
Summer Plans and Hiring
While summer is typically a hectic season for parks and recreation, seasonal plans remain on hold at a majority of park and recreation agencies, pending further guidance from state/local government and public health officials. Among the seasonal offerings expected to be available this summer — either in-full or truncated — are:
Farmers markets (62 percent)
Summer camps for children of healthcare providers/first responders/essential staff (22 percent)
Summer camps for children of the general public (21 percent)
Fourth of July fireworks (19 percent)
Outdoor pools (15 percent)
Splash pads/spray parks (11 percent)
5K races and other running/walking events (10 percent)
Festivals/concerts/outdoor movies (10 percent)
Sports leagues (8 percent)
Among the activities canceled for this summer are:
5K races and other running/walking events (26 percent)
Festivals/concerts/outdoor movies (22 percent)
Fourth of July fireworks (20 percent)
Sports leagues (15 percent)
Hiring and recruiting for summer events and programs remain a challenge due to the uncertainty of program and event status. Currently, 38 percent of park and recreation agencies have either completed or are currently recruiting, interviewing and hiring summer seasonal staff. Forty-one percent of park and recreation agencies have delayed the process of hiring summer seasonal staff because of uncertainty with summer offerings, while 17 percent have delayed hiring due to a hiring freeze at the agency.
Summer Meal Programs
Many children rely on the summer meal programs found at many park and recreation agencies across the country — a need that has grown with the pandemic. Among agencies that operate summer meal programs:
49 percent will be offering summer meal programs regardless of the status of the summer camps or other related programming
16 percent will offer summer meals if their summer youth programming operates
30 percent are unsure of their summer feeding plans at this time
5 percent report they will not be delivering summer meals because of the pandemic
Leaders at many park and recreation agencies who serve summer meals report offering this vital service this summer has resulted in a need for additional financial assistance. Park and recreation leaders indicate needing additional funding support for:
Personal protective equipment (PPE) for staff (54 percent)
Cleaning and disinfecting supplies (47 percent)
Staffing (36 percent)
Facility enhancements, such as washing stations, hand sanitizer stations, etc. (35 percent)
In addition, here highlights of the survey results from specific segments:
The full results of the survey include verbatim comments shared by park and recreation leaders across the nation on their agencies' experiences in confronting COVID-19. This is an uncertain time with many unanswered questions, and we encourage you to continue the conversation with your colleagues around how your agency is confronting COVID-19 on NRPA Connect.
For more information about NRPA's response to COVID-19, as well as available resources for park and recreation professionals, please see our Coronavirus Disease 2019 (COVID-19) webpage.
Kevin Roth is Vice President of Research, Evaluation and Technology at NRPA.