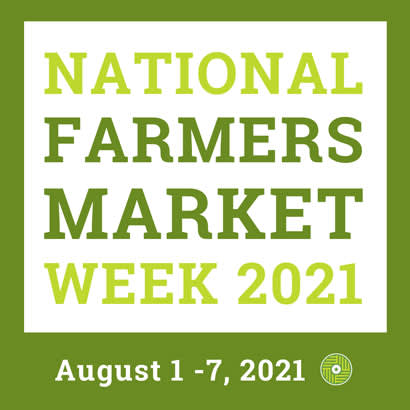 NRPA is excited to celebrate the essential role of farmers markets in supporting healthy food access in communities all year round, but especially during National Farmers Market Week, which is coming up August 1-7. Hosted by the Farmers Market Coalition (FMC), this annual week is an opportunity to show how much value markets bring to communities. FMC offers a full online toolkit with resources, tools and fun activities to celebrate in your community.
Across the country, NRPA supports park and recreation agencies as hosts and partners of community markets. From offering parkland as space to host a market to fully managing a park, park and recreation professionals support local agriculture in so many ways. Check out a few unique ideas from agencies!
The Arkansas City (Kansas) Parks and Facilities Division began offering an evening meal program through the USDA Summer Food Service Program (SFSP) during their weekly market to increase market attendance and support nutritional needs of families. This allowed kids under age 18 to receive a nutritious meal while their caregivers shopped local produce. Events to support the meal program like scavenger hunts and taste tests kept kids engaged and excited to learn about healthy foods.
In the height of the COVID-19 pandemic, the Tunica County (Mississippi) Parks and Recreation Department used produce grown in their on-site hoop house and community garden to distribute to the community. SNAP recipients had first access to the produce, then the remaining produce was distributed at the Paul Battle Arena through a partnership with the Mid-South Food Bank. Through eight donation days, 270 community members received 15-pound boxes of fresh produce — a total of 4,050 pounds of food.
When the Town of Vivian (Louisiana) wanted to start a farmers market in their community, program staff took the time to survey community members to develop a market based on their interests and needs, including where the market would be located in order to be most accessible. This determined that the site originally proposed for the market wasn't accessible to most of the community, so it was moved to a walkable downtown location.
The West Allis-West Milwaukee (Wisconsin) Recreation Department decided to pilot a program at their existing market with the goal of increasing the amount of WIC vouchers redeemed for fruits and vegetables at the West Allis Farmers Market by providing online ordering and mobile delivery services. Not only did this increase market attendance and access to healthy foods, but it also drew media attention and awareness of the market for the community.
Berea Kids Eat, a program in Berea, Kentucky, introduced a monthly Youth Market into their weekly market — located in a local downtown park — allowing kids in the community to sell crafts they made and produce they grew in a community garden to learn about harvesting, marketing and entrepreneurial skills.
The East Orange (New Jersey) Department of Recreation and Cultural Affairs offered Taste Test Tuesday for community members of all ages to sample different healthy foods. Each taste test earned community members vouchers to spend on produce at the market the following week.
Supporting community health and wellbeing, especially through farmers markets, is a key way to engage your community in a social activity, all while providing access to healthy food and nutrition education! For more on the partnership between parks and recreation and farmers markets, check out two upcoming webinars:
Maureen Neumann (she/her) is Program Manager at NRPA.