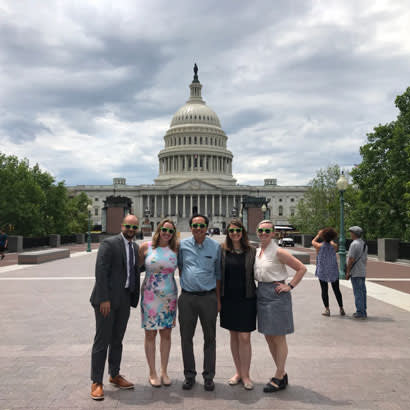 As pools and open-water recreation areas kick into full swing this summer, access to water safety education is critical to prevent deaths due to drowning. According to the US Consumer Product Safety Commission (CPSC) annual drowning report, drowning represents the leading cause of unintentional death for children ages 1-4 and the second leading cause of death for children ages 5-14. Within these figures, significant racial disparities exist in drowning rates and swimming ability. The National Center for Fatality Review and Prevention cites a drowning rate three times higher for African American children ages 5-14 compared to white children of the same ages.
Racial disparities in drowning rates and swimming ability can be traced to discriminatory policies and practices including racial segregation. In his book, Contested Waters: A Social History of Swimming Pools in America, Jeff Wiltse discusses the role of segregation in restricting African Americans' access to public pools, open-water recreation areas, opportunities to participate in swimming lessons, and opportunities to participate on competitive swim teams. Desegregation efforts between the 1940s-1960s led to the closure of public pools and the emergence of exclusive private pools, thus continuing restricted access to swimming opportunities for African Americans. Wiltse noted continued exclusion and lack of access to facilities and opportunities for swimming led to an intergenerational transfer of low-levels of swimming ability and fear of the water within the African American community.
In an effort to address the epidemic of drowning and close the racial gap in drowning rates and swimming abilities, NRPA partnered with the YMCA of the USA and the American Red Cross to host a briefing on Capitol Hill on Tuesday, June 5 to highlight how nonprofits, state and local governments and federal agencies can work together to promote water safety. Briefing panelist Stephen Hladun, the Special Projects Coordinator for the City of Bridgeport, Connecticut Parks and Recreation, presented on the City of Bridgeport's accomplishments in promoting water safety awareness. With support from the federal-funded Pool Safely Grant Program, the Bridgeport Health Department offered trainings to over 50 enforcement officials from the Bridgeport region to ensure the safety of public pools and compliance with state regulations. Swimming lessons and first responder safety demonstrations were provided to over 130 children ages 5-12 and their families. Additionally, safety lessons were provided through a week-long water safety camp focused on classroom activities, water swimming instruction, and first responder interaction. These safety lessons promoted the A, B, C and Ds of water safety, including adult supervision, barriers around water, water safety classes and drain safety.
NRPA Asks Congress to Protect Pool Safely Grant Program
The Virginia Graeme Baker Pool & Spa Safety Act authorizes the US Consumer Product Safety Commission (CPSC) to manage the Pool Safely National Public Education Campaign and the Pool Safely Grant Program, which aims to help prevent the drowning and drain entrapments of children in pools and spas. It provides state and local governments, such as park and recreation agencies, with assistance to implement enforcement and education programs.
In 2018, the CPSC will provide $1.1 million to state and local governments to prevent drowning and drain entrapments. The CPSC's Pool Safely Grant Program is the only pot of federal funding that is available for drowning prevention training and education efforts and is at risk of being eliminated in the congressional FY2019 budget.
NRPA will be working very closely with YMCA of the USA, the American Red Cross and others to protect this critical federal funding stream in the coming months. You can help raise awareness about how important water safety and drowning prevention is to your agency and community by hosting an event on June 21 as part of the World's Largest Swimming Lesson.
Megan Phillippi is an intern for NRPA's Public Policy Team.