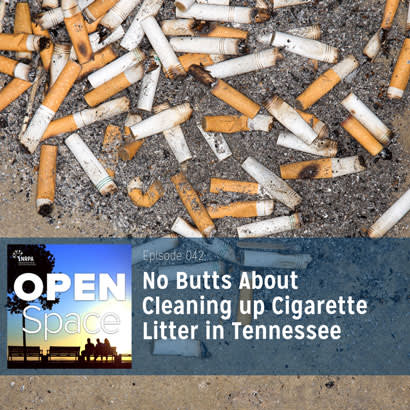 We're talking about a gross topic on today's episode of Open Space Radio, but fortunately, I'm joined by a few people who are on a mission to clean things up. Today we're talking about cigarette butt litter, and how both Keep Tennessee Beautiful and Keep the Tennessee River Beautiful are doing their part in their state to reduce the amount of cigarette butt litter, which contains really toxic chemicals that can be detrimental to the environment.
On today's episode I'm joined by Missy Marshall, who is the executive director of Keep Tennessee Beautiful and serves on the board of directors for Keep America Beautiful (KAB). I'm also joined by Edmond McDavis III, affiliate services and training coordinator for Keep Tennessee Beautiful and Kathleen Gibi, Executive Director of Keep the Tennessee River Beautiful.
Keep Tennessee Beautiful is a KAB affiliate whose mission is to inspire and educate Tennesseans to take action every day to improve and beautify their community environment, and Keep the Tennessee River Beautiful is the first KAB affiliate to focus solely on a river — the improvement, protection and preservation of the Tennessee River, specifically.
Part of improving, protecting and preserving the river is to educate people about the harm that cigarette butt litter can cause to waterways and provide safe ways to dispose of cigarette butts. Tune in to the episode below to learn about how KAB's Cigarette Litter Prevention Program is helping improve the Tennessee River and the communities along the river through the installation of cigarette butt litter stands that not only provide safe disposal, but also feature educational art on the outside.
You'll also learn how to get your own free cigarette litter stand from Keep America Beautiful!
Listen to the episode for the full story.