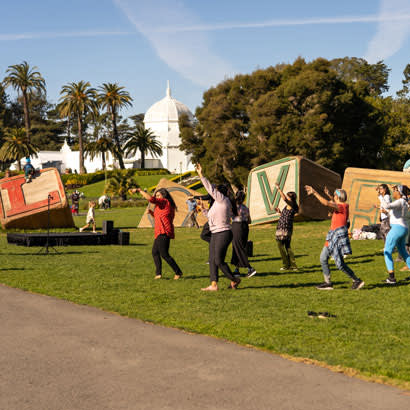 Pictured: San Francisco Parks Alliance activated JFK Promenade with its Promenade Presents event series, which distributed cash grants to community members and organizations to host free public events, like yoga classes along the street. Photo courtesy of SF Parks Alliance.
As our cities become more complex, so do our public spaces. While parks may appear to be simple and serene, building, maintaining and activating them is complicated. It involves many public and private stakeholders, maze-like compliance structures and various sources of funding — all with their own restrictions and requirements. In short, building a successful network of parks and public spaces is anything but simple.
In response, park advocates are becoming more sophisticated, with the San Francisco Parks Alliance offering a compelling example of how park advocacy and philanthropy can evolve to meet the needs of today.
Having recently celebrated its 50th anniversary, SF Parks Alliance offers a range of services. Between fundraising, programming, designing, building and long-term stewardship, SF Parks Alliance has served as the one-stop-shop for San Franciscans who want to create better parks and public spaces.
The organization grew from a merger of two predecessor organizations — one focused on a more traditional conservancy model centered on fundraising, and the other focused on policy and advocacy. As it turns out, this history is pointing the way toward a new approach for the organization.
A New Way Forward
The SF Parks Alliance is launching two affiliate organizations to better help it achieve its mission of creating, sustaining, and advocating for San Francisco's parks and public spaces that welcome and belong to everyone.
San Francisco Parks Forward and San Francisco Parks Foundation will work to ensure that San Francisco's parks and public spaces receive the investment they need in order to expand equitable park access, support San Francisco's recovery, and reimagine the public realm in a way that makes the city prioritize one of its greatest assets: its parks.
San Francisco Parks Forward will advocate for San Francisco parks and public spaces. As a 501(c)4 organization, SF Parks Forward will be the voice for parks and public spaces at City Hall. It will also be an educator, highlighting the successes, challenges and opportunities inherent in the city's public spaces — and rallying a base of San Franciscans who believe in better public spaces.
Pictured: In 2022, SF Parks Alliance hosted the Public Space Forum, a gathering of candidates for the San Francisco Board of Supervisors to discuss their policies and answer audience questions. This event was a first step into advocacy work for the SF Parks Alliance. Photo courtesy of SF Parks Alliance.
San Francisco Parks Foundation will raise funds to ensure that every San Franciscan has access to an exceptional park. As a 501(c)3 organization, SF Parks Foundation will fundraise and distribute grants that enhance San Francisco parks and public spaces. It will focus on bolstering the core funding sources that SF Parks Alliance has relied on for over fifty years to contribute over $100 million to parks and open spaces in the city.
This evolution of the SF Parks Alliance comes at an important time. The City of San Francisco is facing a major budget deficit in the coming years due to a slow downtown recovery and falling tax revenues. Historically, budget cuts in San Francisco have first affected services seen as "luxuries" like parks, playgrounds and public spaces. San Francisco's parks are world-class, but that is the result of significant investments and advocacy following a period of budget cuts that hamstrung the city's park system in the 1990s.
Pictured: Before and after images of Alice Chalmers Playground, one of the 13 Let'sPlaySF! playgrounds renovated by SF Parks Alliance. Photo courtesy of SF Parks Alliance.
The truth is that San Francisco parks and public spaces aren't luxuries. As we were reminded during the pandemic, parks and public spaces are vital, they are much-needed resources, beloved amenities, and the foundation of a healthy public realm. Great parks improve the health of locals, support public artists and performers, increase neighborhood cohesion, and support the important ecosystem of plants, insects and animals that make San Francisco the city it is. They contribute to our physical, mental, emotional, social, ecological and economic well-being — to the tune of more than a billion dollars each year.
Our parks and public spaces are simply too important to neglect, and the consequences of shrinking park investments and deferring maintenance would have ongoing consequences for years to come, and only necessitate even larger expenses in the future. As any gardener knows, it is always easier to maintain a garden than try to revive it.
Pictured: The staff of SF Parks Alliance at the 2022 Public Space Summit, a Parks Alliance-hosted gathering of local community leaders and public space improvers. Photo courtesy of SF Parks Alliance.
SF Parks Alliance made the decision to launch these new organizations after researching how peer organizations – like the City Center District in Philadelphia and The Sierra Club – are structured to respond to their own complex set of needs. What they found is that a coalition of organizations coordinating together is the best way to address the challenges and opportunities San Francisco faces.
While the organizations will share common goals, each will operate independently with its own management and boards of directors. Luke Spray will serve as managing director of SF Parks Forward, and Steve Fredericks will serve as managing director of SF Parks Foundation. As is common at organizations with similar arrangements, there will be some shared resources, such as office equipment and meeting spaces.
SF Parks Alliance has contributed to San Francisco's parks and public spaces in the city for more than 50 years under a number of different organizational structures, and this new structure is poised to bolster San Francisco's green spaces for decades to come. As the needs and environment of the city continue to change and become more complex, SF Parks Alliance will continue to adapt to effectively advance its mission. SF Parks Alliance is excited for this next chapter, where it can continue to ensure that San Francisco's park system flourishes.
Jake Ramirez is the associate director for marketing for SF Parks Alliance.