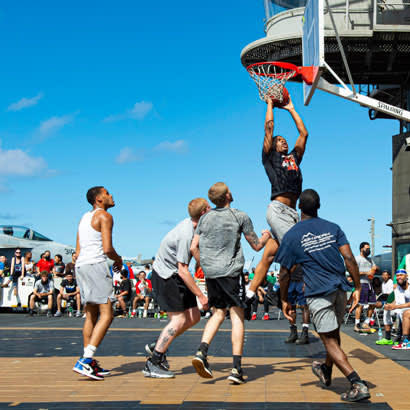 Pictured: U.S. Sailors play basketball during a steel beach picnic on the flight deck of the aircraft carrier USS Theodore Roosevelt. Pacific Ocean, June 2020. Photo by U.S. Navy Mass Communication Specialist 2nd Class Pyoung K. Yi.
With around 65,000 people around the world supporting the quality of life for United States Armed Forces personnel and their families, Morale, Welfare and Recreation (or MWR) — a.k.a. Armed Forces Recreation — is a network of park and recreation professionals who serve in the military and offer everything you would see at a traditional, community-based park and recreation agency.
MWR also is a sector of the park and recreation world that provides a lot of civilian career opportunities for students and young professionals looking to get into the field – and, as one of NRPA's active member networks is the Armed Forces Recreation Network, I'm looking forward to chatting about a topic we haven't covered much on today's episode.
Joining me today are three individuals who are making huge impacts within their respective branches of the military when it comes to recreation and all the benefits it provides those who serve.
I'm thrilled to welcome John Prue, the Morale, Welfare and Recreation (MWR) program analyst for Navy Region Mid-Atlantic and incoming chair of the NRPA Armed Forces Recreation Network; Caité Kendrick, the recreation program manager at IMCOM Readiness for the U.S. Army; and Kiersten Warren, the outdoor recreation business manager for Air Force Services.
Tune in to the full episode below as we discuss all things Armed Forces Recreation/MWR and what led each of them to a career in this field. You'll also learn:
How access to recreational opportunities are having a positive impact on those who serve in the Navy, Army, Air Force and more
The similarities and unique differences between MWR installations and traditional, community-based local park and recreation agencies
Why MWR is essential for the physical and mental health of those serving in the military, as well as their families
What career opportunities in MWR are available (even for civilians!) and how you can learn more
Why NRPA members should join the Armed Forces Recreation Network, and much more!
Additional Resources:
Listen to the episode for the full story.
You can also listen to Open Space Radio on Spotify, Stitcher, iHeartRadio and other podcast services.

This episode of Open Space Radio is sponsored by The Toro Company. For over 100 years, Toro has been providing grounds managers innovative solutions for all their outdoor maintenance needs, including sports fields, snow and ice management, specialty construction equipment, and irrigation solutions. For more information on how Toro can assist with your outdoor maintenance needs, visit Toro.com or contact your local Toro distributor. Toro — Count On It.