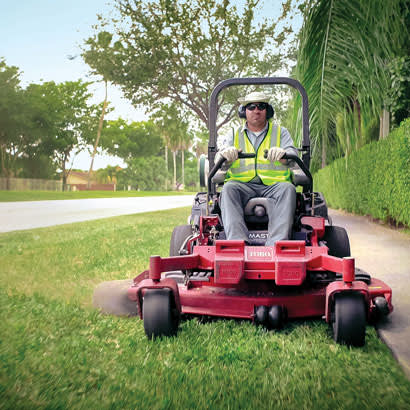 Miami-Dade County is not only one of the largest counties in Florida, but one of the most populous counties in the entire United States. This, combined with southeast Florida's year-round plant growth, heat, and storms, gives the county's Parks, Recreation and Open Spaces (PROS) department a unique set of challenges in providing services to the city's residents and visitors, as well as in caring for park facilities.
One of these challenges was finding a more efficient way for the department's crews to maintain the many greenspaces in the county's special tax districts — 42 parks, 122 residential communities and more than 200 acres of sports fields. The PROS department also holds contracts to do maintenance for other departments within the county, such as the Port of Miami and the Miami Police Department. After researching options, the department found that using commercial propane mowers instead of gasoline could increase crew productivity, as well as reduce fuel costs and emissions.
Research leads to acceptance of propane mowers
The PROS department began using commercial propane mowers in 2008 after conducting an in-house study of the fuel economy and overall productivity of propane mowers compared to their gasoline equivalents. The study revealed that propane mowers could cut more grass, faster, and for less money.
Gil Delgado, PROS sports turf management and landscape services division chief, also saw that a transition to propane could result in a positive public relations opportunity because of propane's clean emissions profile. He painted the department's first propane mower green with the PROS logo, so residents would identify the equipment as part of county-wide efforts to "go green" and reduce emissions. The mower was at as many events as possible to make the public aware of the plans to operate propane mowers, and to build public trust. Delgado said it was like the department had a new toy — people were curious and excited about the machines.
The propane fleet grew as the fuel continued to show efficiencies in the field and reductions to department and county budgets. Now, more than 95 percent of the PROS fleet runs on propane, with 32 total commercial propane mowers.
Propane increases quality of service to residential communities
From the outset, productivity noticeably increased in the field once the department began transitioning its mower fleet to propane — especially in the residential communities. This is important, Delgado said, because the residents pay an additional assessment to the county for the department's landscaping services. Because of the way propane equipment is refueled, crews are more productive and have more time to focus on the landscaping aspect that residents want.
"We're spending a lot of time now maintaining flowers and landscaping instead of cutting so much grass," Delgado said. "Part of that is we don't spend as much time refueling these units."
One propane cylinder can power a day and a half of mowing and refueling is as simple as swapping out an empty cylinder for a full cylinder. Crews can carry an extra propane cylinder to a site rather than leaving to fill up gasoline tanks at a neighborhood refueling station during the day. Before switching to propane, it could take 15 minutes each way to get to and from filling stations, said Steven Rivera, landscape technician supervisor with PROS.
Additionally, because the propane mowers use a closed-loop fuel system, there aren't any burns from spilled gasoline to mar the grass or leak into sewers, which is an advantage to both Miami-Dade County's image and to the employees, Rivera said.
"Now I don't have to go home smelling like gas, like I've been all day on a dirt bike or a four-wheeler," Rivera said.
Transitioning to propane was easy
Along with increasing crew productivity in the field, Delgado said fuel savings are another reason the department has continued using propane mowers for nearly a decade. It's advantageous compared to the costs of gasoline and diesel, especially when considering that the county has a year-round growing season.
"People don't realize the grass doesn't stop growing here in Miami. Then in the rainy season, we get a lot of rain, so you have to cut, cut, and cut," said Delgado. "And this is why we use propane mowers, because to us it's very efficient and very productive."
Rivera said switching to propane cut fuel costs for the division in half, and a competitive bidding process between multiple area propane retailers helps ensure their fuel costs remain low. Plus, the propane retailer makes scheduled propane deliveries to several county facilities across Miami, making the process hassle-free no matter where crews are located.
"The more competition, the better it is for us," Delgado said. "And it was easy."
Reduced maintenance increases uptime
Maintenance costs are also greatly reduced for the county's propane mower fleet. In-house mechanics were trained to work on the propane mowers by the mower OEM, and quickly experienced maintenance advantages that helped reduce costs and increase uptime. The clean, ethanol-free propane keeps mower engines free from contamination and keeps filters from clogging. In the field, Delgado said operators noticed it was rare for the machines to break down, too.
Potentially best of all, the collection of benefits the propane mower fleet offers the department — reduced costs, increased productivity, not to mention a clean emissions profile — helps the department remain fiscally responsible. Click here to learn more about commercial propane mowers.
Jeremy Wishart is the Director of Off-Road Business Development for the Propane Education & Research Council (PERC)