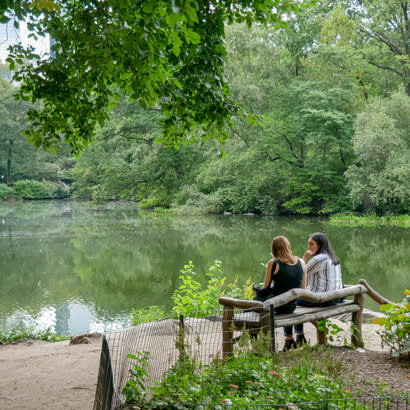 "What if there is something in our everyday lives that can transform our whole health and well-being?"
This is the question that meets you when you view the website for a new advisory report released by U.S. Surgeon General titled "Our Epidemic of Loneliness and Isolation." The report finds that even before the COVID-19 pandemic, about half of U.S. adults reported experiencing measurable levels of loneliness. In response to this national health crisis, the report outlines the framework for a new national strategy based on six foundational pillars – but the first is what caught our eye:
Strengthening social infrastructure, which includes things like parks and libraries as well as public programs.
At NRPA, we've been lifting up the essential work of our park and recreation professionals as key parts of the public health system for years, and we're thrilled to see parks called out as a strategy to address our mental health epidemic.
A new issue brief produced by NRPA highlights the fact that mental health is health. The brief outlines ways in which parks and recreation are uniquely suited to address and support mental health through programs, services, and access to green space, things like:
Training staff through programs like Mental Health First Aid
Strengthening partnerships to connect youth and families to mental health resources
Fostering a safe and welcoming environment supportive of people experiencing mental health conditions
Offering programming that promote mindfulness, support healing and build relationships
Challenging the stigma of mental health and substance use disorders
Providing out-of-school time services and programming to promote positive youth development outcomes
I believe the answer to the question at the top of this blog is parks and recreation. So as we recognize May as Mental Health Awareness Month, we asked NRPA staff to reflect on how local parks and recreation support their health. As staff is spread across the country, we're excited to lift up our own local park systems that we frequent as a testament to the reach you as park and recreation professionals have on all of us.
"My local parks — City of Buffalo Division of Parks and Recreation and the Erie County Parks (New York) — help me connect with my loved ones! Having access to parks means we're able to bond by playing pickleball, going on hikes, and exploring our local green spaces."
-Taylor Jeromos (she/her/hers), NRPA Manager of Learning Production
"My local park system — Jefferson County Parks & Recreation (West Virginia) — maintains a wonderful park called Sam Michaels Park. This park provides numerous recreational options for community members, including a dog park. The dog park has hosted my family (including myself, my husband, our parents and our two dogs) many times. We have found the park to be extremely beneficial, as we are all able to exercise and enjoy the outdoors together. I, personally, have found this time with family to be relaxing and recharging."
-Julie Boland (she/her/hers), NRPA Vice President of Credentialing and Member Operations


"We moved to the Richmond area in 2021 without knowing anyone. Attending the great events that my local park system — Chesterfield County Parks and Recreation (Virginia) — hosts have helped us meet new friends, connect with neighbors, learn about history, and given us a chance to visit parks all across the county. Taking advantage of these opportunities has really helped me feel rooted in the community and made me feel at home."
-Maureen Neumann (she/her/hers), NRPA Senior Health Program Manager


"I love my local park system! Loudoun County Parks, Recreation and Community Services (Virginia) not only provides playgrounds, splashpads and beautiful walking trails for my family to enjoy for free all year long, but their affordable after-school care allows me to continue to maintain my job I love at NRPA."
-Hayley Herzing, (she/her/hers), NRPA Senior Manager of Membership


"The local parks in and around Richmond (Virginia) have an awesome selection of volunteer opportunities and programs centered on community wellness and conservation, which have helped me feel more connected to my community and learn more about the natural spaces around me, and that in turn has helped me branch out and get more involved!"
-Cheryn Rapp (she/her/hers), NRPA Manager of Learning Systems


"My wife and I love to take our dog to different MetroParks located throughout the greater Columbus (Ohio) region. Our pup (Jake) loves to sniff around and explore a world of new smells. Meanwhile, my wife and I soak up some time in nature, get some exercise, and slow down from our busy lives. For the three of us, spending time at a local MetroPark is a win/win/win."
-Austin Barrett (he/him/his), NRPA Evaluation Manager


"After I lost my mom to a tragic accident, the trauma of the accident and grief of losing her took me over. I struggled to get out of bed each morning for a while and while therapy and other tools were helpful, they weren't enough. I knew I needed to do more for myself. I participated in a hiking photoshoot in my local park system — Frederick County Parks and Recreation (Maryland) — the previous year and it was my first hiking experience since my younger years. I saw a photo from the shoot while scrolling through social media one morning after she passed and was inspired to head out for a hike. From that moment, the outdoors saved my mental health. I've known the importance of an active lifestyle my entire life (my mom owned a dance studio and I played lacrosse in college) but underestimated the power of hiking – in the woods and/or in an urban setting. I tell people that hiking, walking and being outside saved me. Being alone with your thoughts while exercising is quite a powerful combination, and I'm so grateful for the ability to experience it."
-Danielle Doll (she/her/hers), NRPA Senior Manager of Strategic Communications
Thank you for providing spaces to help everyone take care of their health and find connection. Your work as park and recreation professionals is essential! Now we want to know, how do you use your own local park and recreation spaces to take care of yourself?
Maureen Neumann (she/her) is an NRPA Senior Health Program Manager.