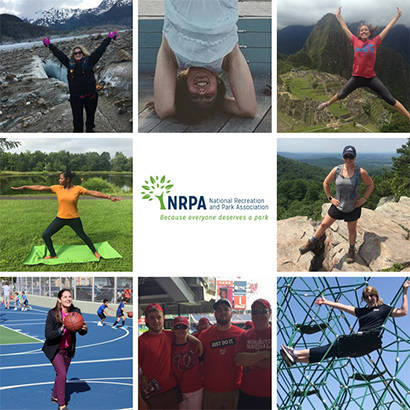 NRPA's Health and Wellness Team works with local park and recreation agencies to provide tools, resources and technical assistance to help improve access to healthy foods and increase opportunities for people to be physically active in their communities. Our areas of focus include ensuring that all people have safe access to quality park and recreation facilities and programming; promoting healthy eating and physical activity standards; expanding access to evidence-based health prevention programs; connecting parks and the health community, and supporting programs and policies that eliminate health disparities.
Take a moment to get to know the people behind NRPA's health and wellness programs!
Kellie May, Director of Health and Wellness
Kellie enjoys visiting the farmer's market on Saturdays to pick up fresh fruits and vegetables, traveling the world and walking her two dogs.
Maureen Acquino, Health and Wellness Program Specialist
Maureen likes getting a different perspective in yoga, feeding people, and soaking up sunshine.
Rachel Banner, Health and Wellness Program Manager
Rachel lives in DC and walks and bikes as her primary everywhere she goes (except commuting to work), she also enjoys running and "foodie" picnics in the park.
Lesha Spencer-Brown, Health and Wellness Program Manager
Lesha enjoys spending time with her family and is always up for a new adventure.
Allison Colman, Health and Wellness Program Manager
Allison enjoys cooking, hiking and camping with her two (very outdoorsy) dogs, and exploring all things Virginia food and wine.
Colleen Pittard, Partnership Manager
Colleen enjoys spending time with her family cheering on the Washington Nationals and hiking with her hounds, Rebel and Maizie.