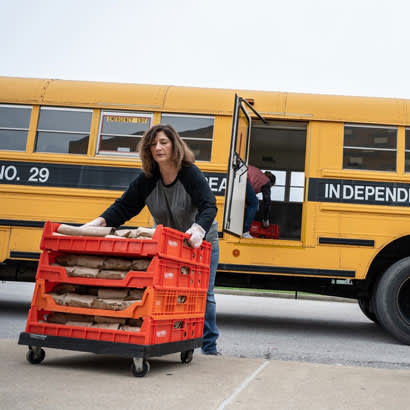 May 27 is Thank A Hunger Hero Day, and we have a lot of hunger heroes to thank! Across the country, park and recreation professionals have stepped in to ensure that in light of the COVID-19 pandemic, kids and families are able to still receive healthy, free meals. We've heard dozens of examples of our park and recreation professionals spending their time bagging lunches, packing a weeks' worth of meals, delivering meals along bus routes, handing out meals through drive-through pickup lines, and reimagining park and recreation sites across cities as meal sites.
We've seen this tireless work being done behind the scenes to make sure there was no gap in meal service when schools closed weeks ago. From working with meal sponsors to begin Summer Food Service Program (SFSP) months early, to advocating for waiver extensions to ensure non-congregate meals could continue to be served, our park and recreation professionals are true hunger heroes.
We've also seen the creative ways agencies are supporting their neighbors. In Glenview, Illinois, Historic Wagner Farm, a property managed by the Glenview Park District, has shifted gears from providing public programming to hosting Feeding Glenview, an initiative that takes the farm back to their traditional roots of food production. The farm will continue their weekly donation of eggs to the Northfield Township Food Pantry from their flock of 80 pasture-raised chickens and will add weekly donations of fruits and vegetables as soon as they are ready for harvest. A community garden on the property will allow 90 families to grow their own food. Finally, the Glenview Farmers Market will open for the season towards the end of June, offering fresh produce, meats and cheeses for community members.
The New York City Department of Parks and Recreation transformed a seven-court practice gym for NBA teams, adult leagues, camps and clinics into a meal service hub, filling it with boxes of food donated by vendors such as Gate Gourmet, an airline food provider. The site has been able to send out up to 100,000 meals per week, and it's the only one of New York's nine distribution centers sending food to all five boroughs, with help from taxis who line up and take food to distribute to neighbors.
We thank our park and recreation professionals today and always for the incredible work they're doing to serve communities of all sizes. Your generosity, perseverance and love for your neighbors have helped community members of all ages access the critical meals they need during this crisis and beyond. THANK YOU!
Be sure to thank your own hunger heroes on social media using #ThankAHungerHero!
For more information about NRPA's response to COVID-19, as well as available resources for park and recreation professionals, ­please see our Coronavirus Disease 2019 (COVID-19) webpage.
Maureen Neumann is a Program Manager at NRPA.
Pictured above: In Berea, Kentucky, meals prepared by Berea College and Berea Community School food service kitchens are distributed to children in need using a school bus. Photo credit: Berea College