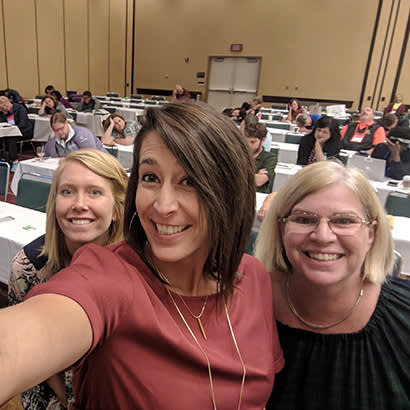 The 2019 NRPA Annual Conference is just around the corner and I cannot be more excited. Hopefully you took advantage of the early bird discount and have already registered — but if not, there is still plenty of time! Make sure to check out the amazing pre-conference workshops that are being offered, and I would highly recommend signing up for the Marketing Certificate Program.
This course is not something you should overlook, and I'm here to tell you why. Whether you are part of a marketing team within your organization or this is simply one of the many hats that you wear, you will be able to get the latest — and realistic — marketing strategies.
How is this workshop different than other marketing workshops?
What I love about this certificate is that park and recreation professionals created it and teach it. That means all the examples are from park and recreation experiences and case studies, which we can all relate to.
In our field, we're known as the "fun people." Why should our marketing strategies be any different? It's 2019! No matter if the marketing budget is big or non-existent, there are easy, cost-effective ways to ensure that the community is getting the information — most of which can be free.
Think of the Marketing Certificate Program as being similar to baking a cake. In this workshop, we will break the certificate down into four areas — each one bringing insight and hands-on strategies that will make your life easier. Don't believe me? Let's break it down:
1. You Need the Right Cake — It Needs Assessment
How do you decide what cake to make? Does it matter? Well, would you take a chocolate cake to a party where nobody likes chocolate? What if the person celebrating their birthday likes vanilla and you bring a red velvet cake? Will this make the impact that was planned? I think not.
Ideally, you bring or bake a cake that you know the most people will eat — unless you don't care, then I don't think you'll be invited back to the party, nor will you truly appreciate this blog or workshop.
Bottom line: You NEED to understand your audience. That's critical in marketing. To successfully get the information out about your department, programs, events and amenities, you must know who you are marketing to and what they need. We are here to serve. If we don't like a triple chocolate cake with confetti icing but that is what the community wants, then guess what? They're going to get a triple chocolate cake with confetti icing! Anybody hungry yet?
2. Strategic Planning — The Ingredients
At this point, you have the needs (aka the triple chocolate cake). Now you have to gather the ingredients, right? The ingredients are what you have found out about the community including, demographics, community needs, etc.
There are a ton of ingredients to work with, but in order to successfully bake the cake that you need, you must put in the right ones. This section of the course will teach you how to pick out the right ingredients to make sure they fit your community, as well as align with the departments' vision and mission. For example, if you add an Avengers Superhero Day but your community has expressed a need for a Beach Music Festival, do you think it will be successful? Well no! That's like adding strawberries to our triple chocolate cake recipe!
From here, you can move towards the instructions of putting your cake together. This is your marketing plan. A cake is nothing without instructions. Similarly, how do you effectively market without a plan? This section will also show you examples of how to write an abbreviated marketing timeline and plan for your next outreach project.
3. Implementation — Presentation Is Everything
We're at the fun part now. Mix the ingredients together and bake! There are many ways to mix: by hand for two minutes, light whisking for 10 minutes, electric mixer, etc. Why does it matter? The outcome of the cake will depend on how you mix it up. The key is remembering what way to mix that will have the best impact for your community. This means, when implementing a marketing strategy, it is important to know how the community is getting their information. Is it newspapers, Facebook, email, billboard signs, radio, flyers through schools, etc.? There are so many outlets to choose from, but not all are effective.
Once things are mixed and you bake, you have to add icing! Because really, what is cake without icing? And is there a wrong way to ice cake? (The answer is yes! Have you ever watched Nailed It on Netflix?) Presentation is EVERYTHING.
Remember how our need consisted of a triple chocolate cake with confetti icing? Our "icing" is our output — what people are going to see. For marketing, it's how we're delivering the information to get the maximum public outreach. That's understanding the "do's and don'ts" of design while also prioritizing the most effective way of marketing: ENGAGEMENT. It is 2019. We are competing with technology that consists of bright, flashy colors and things that get our attention.
The icing on the cake here, friends, is to understand how to achieve maximum outreach. No matter which option is best for your community, this course is key in helping identify which method to use.
4. Evaluation — The Tasters
This is vital to the success of your marketing. If the cake is disgusting, you need to know. How will you find out if nobody tells you? If you only put an ad in the newspaper, but everyone is on Facebook, it may be safe to say that it might not be the most effective implementation of your marketing plan. But how will you know if you don't ask? Feedback is crucial in everything we do. This course will teach participants effective evaluation tools that are not time consuming and have the most impact on feedback.
Of course, we will always have those judgy friends that think that they could bake a better cake. Well, not today! Don't worry, we will show you key ways to address the haters that align with your mission, vision and values while supporting our "judgers" at the same time.
All in all, I would highly recommend that you not only look into the Marketing Certificate, but attend the Marketing Certificate pre-conference workshop. This pre-conference workshop will provide an opportunity to discuss strategies with professionals across the nation throughout the course, as well as learn from amazing marketing "chefs" in the field.
I can't wait to see you in Baltimore! Together, we'll make the best cake ever! Register now for the Marketing Certificate pre-conference workshop. You do the registering, I'll bring the cake! *
*This special session is not included with conference registration. To sign up, please select the session during the conference registration process. If you're already registered for the conference, you can also go back and add on this session by logging into the registration site.
Katy Keller is the Program Coordinator for Indian Trail Parks & Recreation.