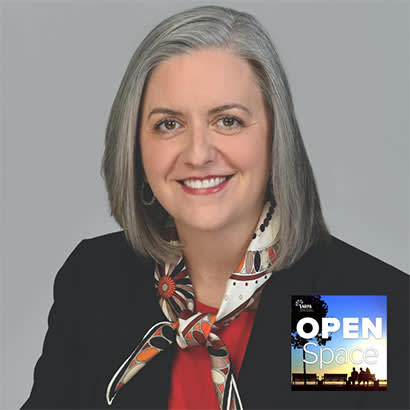 On today's episode of Open Space Radio, we are looking at where NRPA is going in the next three years and beyond. Like any organization or group, every few years we must assess where we've been, where we are and where we want to go. Over the past several years, NRPA has centered our strategic plans around our three pillars: health and wellness, social equity and conservation. Now, we're building upon that very solid base and looking to launch a movement.
And before you tune us out because the words "strategic plan" sound dull, we can assure you that what NRPA has planned for the future — and our guest today — is anything but! Today, we're speaking with NRPA President and CEO Kristine Stratton about what NRPA wants to achieve in the months and years ahead and how we're going to get there. Kristine has just completed her first full year with NRPA — a year that has turned out a bit differently than any of us could have imagined.
We check-in with Kristine and see how things are going during this unprecedented time, and dive into NRPA's recently released 2021-2023 strategic plan.
Tune in to the full episode below to learn:
3:02: Why this process important and worth celebrating/talking about.
5:09: The strategic plan's five strategic goals that, in essence, build upon our three pillars of health and wellness, social equity and conservation:

Build a movement
Ensure access for all
Advance community health and well-being
Build community resiliency
Prepare the profession for the future

9:21: Why building a movement is critical to moving our vision forward and how people can get involved.
13:14: How COVID-19 has challenged our strategic plan.
16:54: How NRPA is committed to diversity, equity and inclusion in all that we do.
22:16: What differences we will see in NRPA and the profession if we achieve the goals we've laid out in the strategic plan.
And more.
You can learn more and view NRPA's Strategic Plan here.
Listen to the episode for the full story.