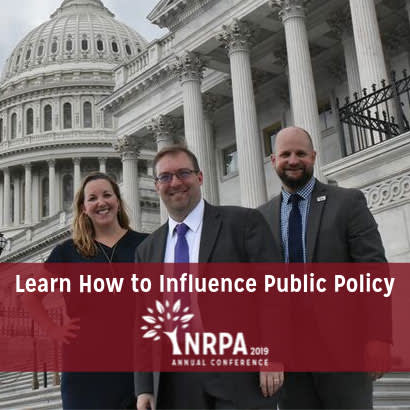 The 2019 NRPA Annual Conference in Baltimore, Maryland, is just a week away, and NRPA's Public Policy Team is excited to share three opportunities for you to advocate on behalf of park and recreation policy priorities and influence your Members of Congress as part of this year's conference.
1. Take Action
Back by popular demand, we will once again be conducting a live call-to-action text-a-thon during this year's Opening General Session, Tuesday morning from 9-10 a.m. By texting SUMMER MEALS to 52886, you will receive a link to our online advocacy campaign. At last year's conference, over 3,000 attendees generated more than 5,000 messages to their Members of Congress. Join us this year to save the federal summer meals program, currently at risk because some in Congress believe it's not the most effective way of addressing childhood hunger and are proposing big changes. As leading providers of summer meals, Congress must hear from park and recreation agencies and all the wonderful work agencies are doing at summer meal sites.
Can't wait until Tuesday? Add your voice today!
2. Attend Our Session
Meet NRPA's Public Policy Team and share your policy ideas directly with the staff by attending Tuesday's session, "Let's Get Advocating! Town Hall with NRPA's Public Policy Team" from 1-2:15 p.m. in Room 340. Whether you have a new idea, questions about our existing policy platform, or simply want to meet the people behind the blogs, articles and emails begging you to contact your Members of Congress — we want to meet you face-to-face next week!
3. Visit Our Booth
Can't make the town hall? NRPA's Public Policy Team also has a booth in the NRPA member area of the exhibit hall. Stop by to share your policy ideas and to tell us how we can better serve you and your agency on Capitol Hill. For those that have texted 52886 to save SUMMER MEALS, we will have a special reward for you — first come, first serve!
As always, you can reach NRPA's Public Policy Team by emailing advocacy@nrpa.org. We look forward to seeing you next week, and happy conference-ing!
Kate Clabaugh is NRPA's Director of Government Affairs.