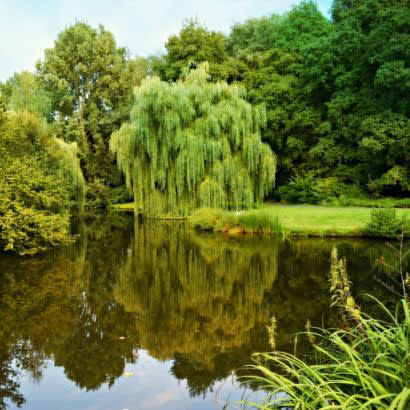 Since the stay-at-home orders took effect in mid-March here in Maryland, I have set a goal for myself to get outside every day and take a long walk through the trails and parks surrounding my neighborhood. While making use of my local parks isn't a new activity for me, I have noticed a significant increase in the number of people using these parks (while remaining at least six feet apart, of course). I see families enjoying meals together in the grass, kids exploring the creek that flows through, bike adventures, and people discovering new and creative ways to workout.
It is amazing to see people finding a new appreciation for the nature outside their backdoor, but what many people don't realize is how these parks protect us every day from extreme heat and flooding. Unfortunately, not everyone shares equal access to these high-quality parks, which puts undue strain on the physical well-being, mental health and environmental living conditions of underinvested communities, while also leaving them ill-equipped to prepare, mitigate and recover from climate events.
Park and recreation professionals are stepping up to provide physical and mental health benefits to all people during the Coronavirus Disease 2019 (COVID-19) pandemic. It is essential that "greener parks" — or those parks that address climate impacts through green infrastructure — are supported now and invested in in the future so park and recreation professionals can continue providing critical services that people across the country are so reliant on.
NRPA is equipping park and recreation professionals with the tools and knowledge to advocate for and institutionalize green infrastructure in park systems to address climate impacts, improve community well-being and advance equitable outcomes for all. As part of this effort, we will be hosting a Greener Parks for Health webinar series over the next few months to highlight evidence, targeted messaging strategies, policy and funding mechanisms, and case studies to help you advance greener parks in your community.
Exploring the Connection of Parks, Green Infrastructure and Health (May 27, 2 p.m. EDT): The first webinar of the Greener Parks for Health series will introduce you to NRPA's Greener Parks for Health initiative highlighting the important role that green infrastructure in parks play in mitigating climate impacts and creating healthier communities.
How to Talk Persuasively about Greener Parks with Values-Based Messaging (June 18, 2 p.m. EDT): In the second webinar of the webinar series, you'll learn how to craft communications messages that make a strong case for increasing green infrastructure in parks, so every person has the opportunity to live a healthier life.
Creative and Equitable Policy and Funding for Greener Parks (July 1, 2 p.m. EDT): The third webinar in the series will navigate the current policy landscape around green infrastructure and highlight the opportunities for local governments to expand green infrastructure in parks as a way to benefit communities.
Best Practices for Achieving Greener Parks (July 22, 2 p.m. EDT): In the last installment of the four-part Greener Parks for Health webinar series, NRPA will examine key opportunities for park and recreation leaders to advance green infrastructure in parks as a tool to improve community well-being and address climate impacts.
To learn how to communicate about, advocate for and advance greener parks in your community, register for this webinar series. In June, NRPA will be releasing a Greener Parks for Health communications toolkit, policy action framework and advocacy toolkit highlighting key evidence, messaging and asks to ensure equitable investment in green infrastructure across park systems to mitigate climate impacts. We can't wait to have you join our webinars!
Jenny Cox is NRPA's Conservation Program Manager.