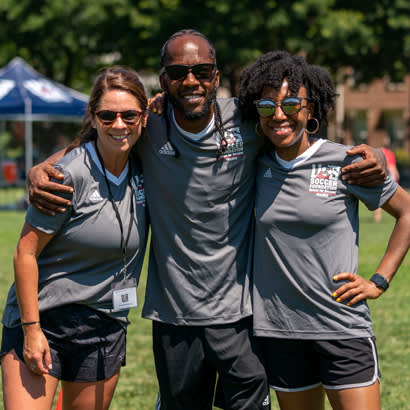 As park and recreation professionals, many of us interact with young people in our facilities and programs. Whether it's through soccer, basketball or other physical activity programs, we all want to provide the best experiences for youth.
This is even more challenging in today's environment.
Since the pandemic began, people have been hesitant to volunteer and coach. Because of this, we, as administrators, must create a welcoming and supportive space for people who want to coach. One way to do this is to ensure that we provide coaches with training that will support them in their coaching efforts. And, giving coaches tools they can use to connect with their athletes is beneficial for everyone — not just the coaches.
When kids see coaches modeling positive traits, it makes them feel safe and welcome. Additionally, training helps our parks departments because it can help with the retention of coaches. And, trained coaches who know how to develop positive connections with youth ultimately make a positive impact on their lives, which has ripple effects that positively improve communities.
What does impactful coach training look like?
In Columbus, Ohio, we have a good mix of tenured and new coaches, and they do a great job in our programs. But, one thing we learned was that a well-designed coach training that helps our coaches find new ways to connect with their players and equip them with techniques that help them to be more mindful and empathic to their players' needs, was helpful for both new and veteran coaches alike.
It's important to look for a training that goes beyond teaching the fundamentals of the sport. Using a training that incorporates social-emotional learning enables coaches to learn ways to interact with their players with empathy and understanding. And it helps them develop skills for working with youth who may be from different backgrounds and therefore, have different experiences from them.
Coach training — especially when done in a group setting — can also help coaches gain ideas from each other and create their own network of peers to reach out to for advice and assistance. So, in-person, group sessions are ideal.
Lastly, impactful coach training helps reinforce that in order to create safe spaces for athletes to play, the main component of that safe space is the coach. It helps coaches remember that physical safety is only one type of safety and that emotional and social safety — created by a coach — are equally important to athletes.
What to expect from a high-quality training?
I've worked with the U.S. Soccer Foundation for more than four years as we offered its Soccer for Success program at recreation centers across Columbus.
As part of the program, all coaches go through a Soccer for Success coach-mentor training where they learn not only soccer fundamentals, but also how to build a positive team environment and manage behaviors in positive ways, among other skills. That training has been beneficial for our recreation and parks professional staff as it teaches them to be both coaches and mentors.
In fact, we have received a lot of positive feedback with many of our coaches asking, "Is this training available for my sport?" I have often thought about how I could integrate the coach-mentor training into our staff's onboarding for coaching baseball, basketball and others sports across our department.
That's why we were so excited when the U.S. Soccer Foundation recently launched a coach-mentor training for coaches of all sports. After going through the training, our coaches learned a lot.
Through the training, coaches learned ways to create and strengthen their connection with their team and their families. They also learned how to create and implement a team code and culture with their team that can help with behavioral redirection and increase their team bond. The training also teaches coaches how to work with children from diverse backgrounds — and backgrounds that might differ from their own experiences. Through social-emotional learning, coaches are taught ways to interact with their players with empathy and understanding.
What resources are out there?
There are a lot of coaching programs out there, and if you take anything away from this blog, it's that you should look for one that incorporates more than just teaching the fundamentals of the sport that you coach. Seek out one that includes social-emotional learning and really teaches coaches how to be mentors and help their athletes develop both on and off the field.
If you are looking for a way to get started, the U.S. Soccer Foundation offers a free, one-hour course that participants can take on their own time that covers many of the things I mentioned above.
If you are looking for a larger group activity (which is what we did), they also offer an in-person option you can inquire more about here. In addition to all the great tools your coaches will take away, it's a great way to build your team dynamic and bond.
Whatever path you take, I hope you consider providing an impactful training to not only help your staff but also so we can continue providing positive experiences for our youth.
Charnon Barnes (she/her) is the Recreation Administrative Manager, Youth Sports, at Columbus Recreation and Parks Department.