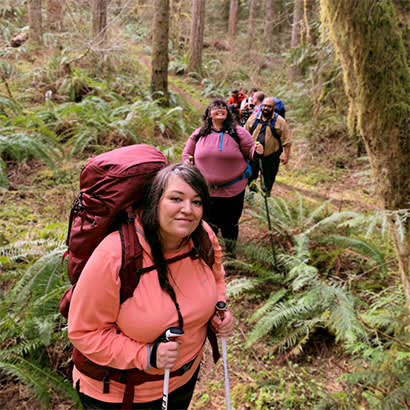 Last week we celebrated National Take a Hike Day, and today on the show we're continuing our celebrations of the Hike Your Turf campaign in partnership with our friends at Merrell. All month long, we've been discussing the importance of getting outside and the need for equitable access to parks, trails, greenspaces and more.
On today's episode, I'm so excited to welcome one of Merrell's ambassadors to chat about her journey to becoming an outdoor leader, advocate and community builder. Jenny Bruso is the founder of Unlikely Hikers, a community she created when she discovered a connection with nature, but found outdoor culture to be hostile to those who don't fit the white, straight-size, cishet-normative, able-bodied mold.
Unlikely Hikers is a diverse, anti-racist, body-liberating outdoor community featuring the underrepresented outdoorsperson. I'm so grateful to Jenny for joining me on the show to discuss how this community is creating a sense of belonging for people who are often underrepresented or made to feel like they don't have a place in outdoor spaces.
Tune in to the full episode below to learn more about Jenny and her inspiration behind creating Unlikely Hikers. You'll also learn:
How Jenny reframes what it means to be "outdoorsy."
How Unlikely Hikers is showing the diverse ways people are getting outside and creating space for the underrepresented outdoorsperson.
How the changing seasons are a great metaphor for the changes we go through in life.
The importance of honoring Indigenous communities and acknowledging the stolen lands we are recreating on.
How Jenny feels when she hears someone went on their first hike because of something they saw on Unlikely Hikers.
Why we should challenge the notion of "being our best selves" all the time and just do the best with what we've got, and a whole lot more good stuff!
Related Links:
Listen to the episode for the full story.