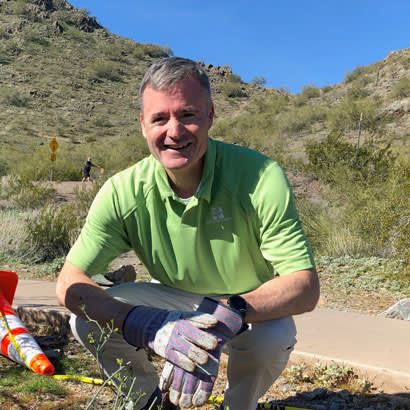 Pictured: American Forests President and CEO Jad Daley volunteers at a tree planting in Phoenix, Arizona. Photo courtesy of American Forests.
On today's episode, we're talking about something that plays a critical role in building environmental resilience, cooling our neighborhoods, and improving the health of our communities: trees. Trees are critical infrastructure, but due to decades of redlining and other discriminatory policies, there are fewer trees in low-income communities and communities of color.
Which is why I am thrilled to talk about tree equity with today's guest, Jad Daley, president and CEO of American Forests. Jad leads American Forests' strategic vision and serves as its "chief engagement officer" in building diverse partnerships to advance its mission to create healthy and resilient forests, from cities to large natural landscapes, that deliver essential benefits for climate, people, water and wildlife. He also is directly involved in the organization's programmatic work, such as forest-climate science, policy development and communication.
Jad has a long history of leadership issues related to climate change and equity, having co-founded the Forest-Climate Working Group and the 1t.org US Chapter, and establishing the first-ever climate change program at The Trust for Public Land, where he served as a vice president and held the endowed Martha Wyckoff Fellowship.
On this episode, we discuss why more trees in the places that need them most truly is a life-or-death issue, and why tree equity is a solution that requires all of us to take action. According to Jad, "I yearn for game-changing progress on the urgent challenges of climate change and social equity. I am inspired by my belief that trees can provide transformational impact in these areas, and the knowledge that we are doing work daily that can save lives and our climate, changing the trajectory of our nation."
Tune in to learn more about tree equity, why urban trees and forests are so critical, and why this work means so much to Jad. You'll also learn about:
How the Tree Equity Score tool can help park and recreation professionals create tree equity in your cities and towns

Cities and park and recreation agencies that are making an impact when it comes to tree equity

Ways to keep these critical conversations going beyond Earth Day

Actions park and recreation professionals can take today to ensure our communities have equitable access to trees and green space, and more!
Related Links Discussed in this Episode:
Listen to the episode for the full story.
You can also listen to Open Space Radio on Spotify, Stitcher, iHeartRadio and other podcast services.
This episode of Open Space Radio is sponsored by Sensodyne. Sensodyne wants to nourish and strengthen your teeth with every brush. Their new toothpaste, Sensodyne Nourish, contains natural mint and essential oils and prevents tooth sensitivity pain when used twice a day. Plus, the tube and carton are recyclable.
Sensodyne is also on a mission to nourish the planet. As part of their Acts of Nourish challenge, NRPA is collaborating with them, as well as local park and recreation professionals, to revitalize parks and outdoor spaces across the country. You can participate by submitting your own act of nourish, and potentially win $10,000 along with some other awesome eco-friendly prizes! It's a great way to do some good and get rewarded.
You can enter the challenge and learn more about our park projects by visiting actsofnourish.com.