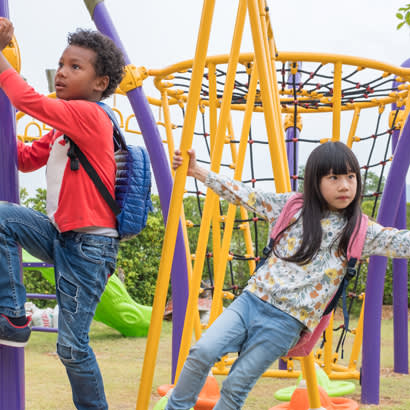 Summer is nearly here, which means sports are kicking into high gear! Unsurprisingly, sports are one of the cornerstones of park and recreation departments and programming nationwide. Still, many sports fans tend to think of the park as the place where sports take place, and the playground as a babysitter for younger children during siblings' games and practices. While true, we should also recognize the critically important role parks and playgrounds play in the lives of young people: fostering positive outcomes in youth by developing the next generation of sports participants! A closer look into these essential community resources reveals that on a foundational level, parks and playgrounds are invaluable to developing youth in a multitude of ways.
The first way parks and playgrounds prepare the next generation for sports activities is by helping them develop the physical tools necessary for sports — strength, endurance, balance and coordination, to name a few. Both parks and playgrounds provide open space and purposefully designed structures for youth to get active and promote healthy muscle, bone and tendon/ligament development. Proper development in those areas is crucial for future athletes to perform in sports, plus for increasing their odds at avoiding sports-related injuries.
Parks and playgrounds also provide youth opportunities to build skills in social-emotional learning (SEL). Many sports participants' introduction to playing sports happens at a park or on the playground, which can lead to a nice mix of both structured and unstructured play. That mix means youth can get a feel for how a sport functions or the strategies and skills needed to succeed in a particular sport. This type of play can also promote a better understanding of other concepts such as teamwork, resilience and friendship. In other words, parks and playgrounds provide a safe, more relaxed space for youth to develop a knowledge base that supports playing sports (an opportunity kids may not have been exposed to otherwise).
Parks and playgrounds also play a key role in kids' emotional development, which can support them in sports. Emotions in sports can range from happiness and excitement to nerves and disappointment quickly. Parks and playgrounds were developed to be safe spaces where youth can learn the ups and downs of different games, which can prepare them for adversity in sports (i.e., facing an injury) or joy when winning with friends. On the playground, youth can experience it all and get a base-level introduction to the emotions they may experience during sports.
Letting youth experience local parks and playgrounds can be a vital benefit to a developing athlete. Parks and playgrounds can help promote the physical, mental and emotional skills needed for sports while also letting kids explore and develop the passion that fuels communities' love for sports. Providing equitable, safe and convenient public park spaces and playgrounds is such an important priority for communities nationwide. Supporting legislation and making sure appropriate resources are available to keep these areas accessible is key to the future of youth development.
Allowing children access to areas that let them experience, develop interest, and engage with sports in a safe and fun environment is a mission worth pursuing. Viewing parks and playgrounds as early sports development hubs for the next pro, college, high school or recreation league athletes really paints the picture of how important and necessary these resources are to their communities!
Nelly Musselman (he/him) is an NRPA program specialist.