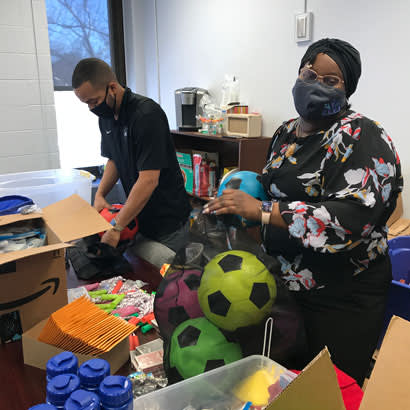 Pictured: Amry Shelby (Recreation Supervisor, Bristol Department of Parks, Recreation, Youth and Community Services) and Jenelle Howard (Project Coordinator, Drug-Free Communities) organizing and packing All-Heart Park Packs. Photo courtesy of Bristol Department of Parks, Recreation, Youth and Community Services.
The COVID-19 pandemic has shed light on just how essential parks and recreation is to our communities. Park and recreation agencies have continued to deliver vital services and programs to the community, while taking on new tasks such as helping with COVID-19 testing locations and vaccine support. Plus, COVID-19 has forced agencies to get creative – to adapt and reimagine programming and other offerings as we all adjust to new norms following the pandemic.
As recreation supervisor of the Bristol (Connecticut) Department of Parks, Recreation, Youth and Community Services (BPRYCS), Amry Shelby never imagined he would be regularly working with the local board of education. Then COVID-19 hit.
Following the onset of the pandemic, BPRYCS brought childcare under the umbrella of services it provides to the community. Bristol employees now supervise kids whose parents work late and lack childcare, helping students access remote learning and assisting with schoolwork.
"A lot of it is so new that there are many speed bumps along the way, so you take any speed bump and make sure it doesn't happen again," Shelby said. "We have other colleagues in the industry doing the same thing. We're all one big family and we share each other's success stories. It helps us with things we haven't thought of."
Amry Shelby, Recreation Supervisor at BPRYCS, organizing and packing All-Heart Park Packs. Photo courtesy of BPRYCS.
With many recreational activities canceled, park and recreation departments across the country have reimagined their role in the community. They're not only providers of recreation. They're distributors of food, clothing and activities. They're safe spaces for children to learn and play. They're providers of socially distanced and virtual programming. They're bridges to creating cross-agency partnerships with other groups in the community to leverage resources for the greater good.
"We realized immediately that if we're not at the forefront of providing essential services, there was a really good chance there would be layoffs and cuts and we would be seen as a department not doing anything during the pandemic," said Sarah Larson, deputy superintendent of Bristol Department of Parks, Recreation, Youth and Community Services. "It's made us really think of what the safety net looks like for our community and recognize there are these other partners in the community who are more than willing to be part of the conversation and the solutions to the problems we're seeing."
With traditional programs largely shut down, BPRYCS created the All-Heart Park Packs program for community members to continue to recreate safely. These branded duffel bags contain items like arts and craft supplies, coloring books, reading books, sports balls and cones, playing cards, and board games – and are delivered to community members' homes at no-cost.
All-Heart Park Packs to be distributed in the Bristol community. Photo courtesy of BPRYCS.
To receive a pack, community members submit a quick online registration form. Unsurprisingly, the department quickly went through its initial order of 200 bags. Another 250 requests are on a waiting list to still be fulfilled.
Thinking outside the box to forge new community partnerships was key to making the All-Heart Park Packs a successful initiative. For instance, because local firefighters couldn't meet with kids in person at school this year, the park and recreation department included fire prevention coloring books, pencils and folders in the All-Heart Park Packs. BPRYCS has also received donations from the Water Department (water bottles), Police Department (police safety coloring books, flashlights, water bottles), Public Works Department (tote bags and drawstring bags), and Economic and Community Development (cotton face masks) for inclusion in the packs.
"We've seen the entire community take advantage of the bags," Larson said. "Yes, some people could pay $5 for it. But more importantly, we're providing the ability to recreate to members of our community who wouldn't be able to afford this and couldn't go to a store or necessarily drive to City Hall. We've provided the opportunity for kids to have some normalcy."
Bristol community members with All-Heart Park Packs. Photos courtesy of BPRYCS.
Collaboration also came through fall 2020 programming. When the state of Connecticut canceled team sports, Shelby had less than two weeks to rethink programming, including staffing, funding and locations for activities. Shelby got creative. He partnered with the local supermarket to offer its popular culinary classes at reduced cost, including a class for youth called Tiny Chefs. He collaborated within his department so summer youth basketball lessons that normally occur inside moved outside, thanks to portable basketball hoops at local schools, and by closely following state guidance for outdoor recreation.
Across the country, new programming ideas emerged due to similar circumstances. The Santa Clarita (California) Recreation and Community Services Department transformed its in-person disc golf program into a virtual experience. Families played together (as opposed to normally against other competitors in person) in a four-week league format. Individuals recorded results online based on the honor system. Divisions were created so people competed against those with similar abilities.
Up to 60 participants have taken part in each of the three four-week leagues. Previously, the in-person tournaments normally had about 20 players.
"It's definitely a program people have taken an interest in," said Rich Carr, the city's recreation supervisor. "A lot of the increased participation has to do with the limited number of opportunities that are out there for recreation. It's been a great opportunity to introduce them to the sport. I think the interest will continue after the pandemic ends."
Carr said one of the more popular programs is the Pop-Up and Play mobile recreation program, which introduces participants to a variety of sports and fitness activities to encourage a healthy lifestyle. Santa Clarita received $40,000 from The Walt Disney Company to launch this new recreation program.
The program allows community residents to pop in to play sports or engage in physical activity. During the pandemic, online registration has been required to control participation numbers based on public health orders. Disc golf, pickleball, soccer, golf and physical conditioning activities are among the offerings. About 80 youth participated per week during the pandemic.
"Obviously, some folks are hesitant to put their kids in in-person programming during this time, which is completely understandable," Carr said. "That's one reason we're trying to offer virtual programming. We have a virtual rec center the city has developed to provide online resources for the public."
One of the big takeaways for parks and recreation departments during this crisis has been the value of collaboration with other community entities.
"It's opened up a lot of communication channels," said Erica Benoit, community engagement coordinator for BPRYCS. "This will still be valuable after the pandemic ends."
Jon Solomon is editorial director of the Aspen Institute Sports & Society Program, whose main initiative is Project Play. Future stories in this series will explore how park and recreation departments are creatively serving their communities during the pandemic.
This blog series is supported through NRPA's collaboration with The Walt Disney Company. As part of their commitment to healthy living, Disney and the National Recreation and Park Association have joined forces to increase equitable access to inclusive play opportunities – including youth sports – for children and families nationwide. Disney and NRPA have worked together for nearly a decade on initiatives designed to provide communities with greater access to play.