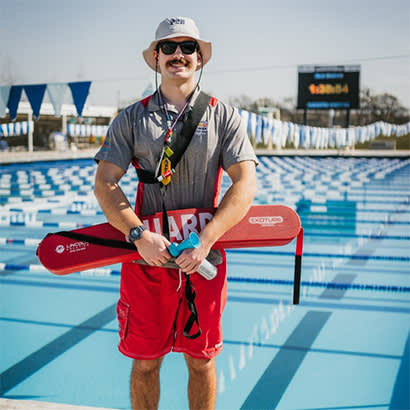 Pictured: Cole Munsey poses with his lifeguarding gear in front of a pool. Photo by Craig Pattenaude, Cosumnes CSD.
The March issue of Parks & Recreation magazine is out now, and on today's bonus episode of Open Space Radio, we're diving deeper into one of this month's articles, "From Lifeguard to First Responder."
I'm joined on today's episode by the author, Craig Pattenaude, the marketing and communication specialist for Cosumnes Community Services District (CSD) Parks and Recreation, as well as Cole Munsey, who Craig highlights in his article.
I'm thrilled to welcome them both to the show to learn about Cole's journey and how a job as a lifeguard propelled him into a career as a first responder, as he recently graduated from the Cosumnes CSD Fire Department intern program.
Tune in to the full conversation below to learn more about Cole's journey and why serving as a lifeguard was so beneficial in preparing him for his future career. You'll also learn:
How a traumatic family experience motivated Cole to become a "helper"
How serving as a lifeguarding reinforced Cole's desire to help others and inspired him to pursue a career as a firefighter
What skills Cole learned as a lifeguard that he continues to use today
What inspired Craig to connect with Cole to help share his story
How Cosumnes CSD is working with staff to help develop their skills for either an extended career in parks and recreation or other areas of the community
How Cole and Craig have been impacted personally by this work, and much more!
Related:
Listen to the episode for the full story.