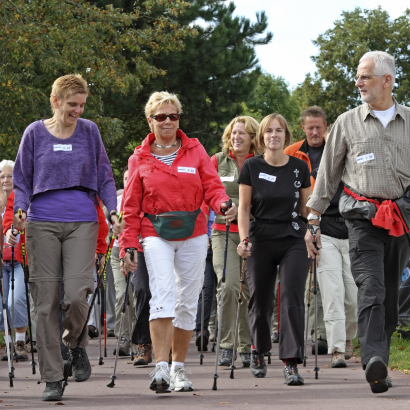 We all go to the doctor for one reason or another and rely on them for courses of action and treatment plans that will essentially improve our health and wellbeing. But oftentimes, we are unable to follow through with those plans due to issues with cost, lack of resources, or more often, a lack of awareness that the resources and services we need are in our communities.
Fortunately for us, the last two decades have seen a big push for healthcare providers and health systems to collaborate with community-based organizations and businesses (like parks and recreation) through coalitions and city-wide health initiatives to address these barriers to improved health.
As the rates of chronic conditions such as arthritis (a leading cause of disability for more than 54 million American adults) continue to rise, healthcare and community partnerships are expanding and strengthening to create healthier communities.
Parks and recreation provide many programs that improve the health and quality of life for members of their community, but only 1 in 10 adults have participated in arthritis evidence-based physical activity programs. The CDC's Vital Signs: Arthritis in America report states that "adults with arthritis are significantly more likely to attend an education program when recommended by a provider".
By establishing partnerships and building on existing collaborative efforts with health systems, healthcare providers can urge patients with arthritis to be physically active, recommend that they attend an evidence-based program (i.e. Walk with Ease, Active Living Every Day, Fit & Strong!) and link them directly to the program(s) being offered at your agency.
Innovative initiatives such as Walk with a Doc in which healthcare providers engage with patients outside of the clinical setting by walking with them in local parks are taking this very step to 'walk the talk'. NRPA recently partnered with Walk with a Doc (WWAD) to pilot an initiative called A Walk in the Park! in cities across the country to increase walking opportunities in communities. Through this initiative, WWAD chapters partner with local park and recreation agencies to facilitate the enrollment of patients into the Walk With Ease program being offered at the park and recreation agency. According to one physician champion in Davenport, IA:
"I think it is part of our duty in the medical profession to find ways to best serve the health needs of our community. In a broader sense of this message, we can associate with the park and recreation departments, and get outside in the "environment" to help us prevent, treat and reverse chronic disease through walking."- Dr. Cheryl True, True Lifestyle Medicine Clinic, LLC
Addressing these growing health challenges require interdisciplinary partnerships to combat the multi-level factors that affect health. Partnerships between parks and recreation and health systems are one way to help make the necessary connections for us all to easily navigate and benefit from the resources we need to remain healthy.
Have you been wanting to engage healthcare providers in your community but aren't sure how? Check out the CDC's 1-2-3 Approach to Provider Outreach. This resource can help you plan marketing strategies as well as prepare and conduct outreach to providers in your community. If you are already engaging healthcare providers in your communities, tell us how you are doing so in the comment section below.
For more information about A Walk in the Park! see NRPA's press release. For all other questions, contact NRPA's Arthritis Interventions Program Manager, Lesha Spencer-Brown.
Rachael Habash is WWAD's Executive Director.
Lesha Spencer-Brown is NRPA's Arthritis Interventions Program Manager.