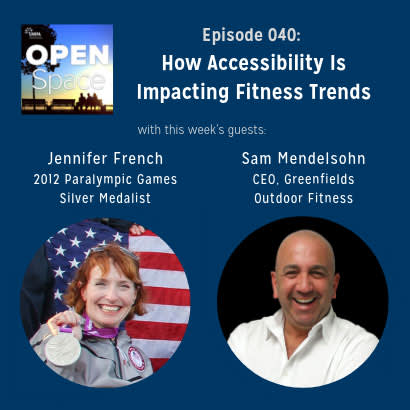 We have a lot of celebrations coming up this summer. Family Health & Fitness Day is this Saturday, June 8, Olympic Day is June 23, and the entire month of July is Park and Recreation Month! With all of these celebrations in mind, we wanted to highlight the ways in which parks and recreation are part of creating a culture of fitness, as well as making sure that everyone has access to fitness opportunities, regardless of their abilities.
Prepare to be inspired by today's episode. We're thrilled to be joined by Jennifer French, who has an amazing story of resilience after overcoming a snowboarding accident in 1998 in which she became a quadriplegic, to becoming a silver medalist representing Team USA at the 2012 Paralympic Games in sailing. We're also excited to have Sam Mendelsohn, CEO of Greenfields Outdoor Fitness, which has been a leader in accessible outdoor fitness equipment since 2007. Greenfields Outdoor Fitness is also the sponsor of Family Health & Fitness Day, Park and Recreation Month and NRPA's Parks Build Community.
Jennifer shares her story with us and explains the challenges she faced after her injury, as well as how she had to adapt to continue living an active lifestyle. She also talks about the things she does to stay fit now and gives some tips for others who may be in a similar situation.
Sam and Jennifer also talk about how they connected, and how Jennifer's story inspired Sam's work in creating accessible outdoor fitness equipment. Sam shares some of the trends he's seeing related to accessibility and physical fitness in parks and recreation. They both agree there's no one way to ensure that everyone in a community has the opportunity to get fit, regardless of physical or cognitive ability, and that getting the community involved is absolutely critical. No one knows the needs of a community more than the people living in that community.
Listen to the episode below to learn more about Jennifer and Sam's inspiring work — it may even inspire you to go out there and get fit!
Related Links:
Listen to the episode for the full story.