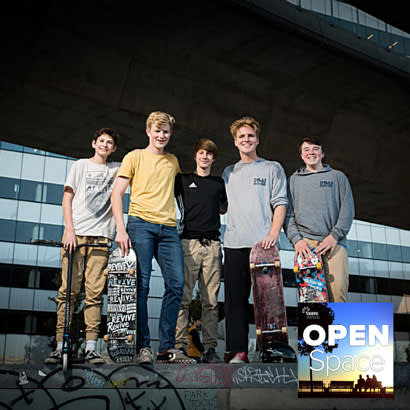 Pictured left: Aidan Swift, Mason Whitcomb, Chris Roy, Griffin Caiozzo and Aidan Moore. Photo by Angela Ryan Photography, courtesy of Anthony Caiozzo.
It is our first Open Space Radio episode of 2021, and we're so excited for another year of great conversations on the podcast. To start the year, we're thrilled to be talking with a group of inspiring teenagers from Lunenburg, Massachusetts, who decided to take a middle school project and turn it into something way bigger that would provide them, and others, a safe space to participate in their favorite activity — skateboarding. They realized that access to public recreational spaces was critical, and decided to take it upon themselves to create a safe, legal place to skateboard through the Lunenburg Skatepark Project.
Our guests today, Mason Whitcomb, Aidan Moore and Griffin Caiozzo, along with their other teammates Aidan Swift and Chris Roy, noticed there weren't any safe, legal places to skateboard in their community, and started a grassroots movement to build a permanent, concrete, public skate/BMX/scooter activity park on land donated by their town. Through a common interest in skateboarding and their school's sponsored Genius Hour program — a movement that allows students to explore their own passions and encourages creativity in the classroom — they were able to come up with the plan for Lunenburg Skatepark, which is soon becoming a reality due to their persistence, creative problem solving, community engagement and innovative fundraising efforts.
Tune in to the full episode below to learn why physical activity through skateboarding is so important to Aidan, Griffin and Mason, and what life lessons they've learned throughout this process, as well as:
How they came up with the idea for Lunenburg Skatepark.
What their initial planning process looked like.
What kinds of fundraising activities were the most successful.
How they have engaged the community with the project.
What advice they would give park and recreation professionals who are thinking about a project like this for a community space.
What's next for Lunenburg Skatepark, and more!
To learn more about Lunenburg Skatepark, stay updated on progress, spread the word or make a donation to this project, visit:
Listen to the episode for the full story.
Image: Concept graphic of Lunenburg Skatepark