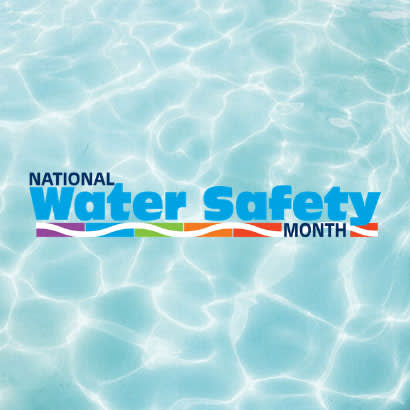 Graduations. Weddings. Family reunions. Backyard BBQs. So many of our important life events have been put on hold over the past few months as we've settled into our "new normal" during the Coronavirus Disease 2019 (COVID-19) pandemic. Of course, all our physical distancing has been for a great cause — to prevent ourselves and our families, friends, neighbors and communities from getting sick or even losing their lives.
Preventing loss of life is something we talk a lot about within the aquatics community — three children die every day as a result of drowning according to the Centers for Disease Control and Prevention (CDC). We focus much of our effort on drowning prevention, especially throughout the month of May, which is National Water Safety Month (NWSM).
Under normal circumstances, each of us would be participating in NWSM in a variety of ways, including hosting in-person swimming lessons, conducting free CPR classes or holding a water safety event in our facilities. This year, we are going to need to think a little differently about how we can make people "water aware," because COVID-19 will not stop drowning from happening. The only thing that can put an end to drowning is if every parent and child knows how to swim and understands the layers of protection needed to keep people safe in and around the water.
Here are a few fun, easy ideas that you might consider doing to share water safety messages with your community throughout May using your social media channels like Facebook, Twitter, Instagram, Snapchat, etc.:
Create and post a water safety word search or coloring sheet for parents to download and share with their kids. There are plenty of websites that offer free tools to help you build these types of documents and you can hold a random drawing with free tickets for a future visit to people who post pictures of their completed searches or coloring sheets.
Host a Facebook Live event where you teach basic water safety lessons, such as entering the water safely, asking for permission from an adult before entering water of any kind, or wearing a properly fitted life jacket. You could host this event from your facility and invite your local lifestyle reporter to join you remotely. Draft questions for them to ask you about how to practice water safety at home and in your park. Another suggestion would be to ask one of your returning lifeguards to participate and ask them to help answer questions submitted by attendees to the Facebook Live event.
Film short videos of your park's staff (or mascot) demonstrating the safety rules you have in place at your park and post the videos on social media throughout May. Rules that you could cover include not running, listening to the lifeguards, using the proper positioning when riding a waterslide, applying sunscreen, avoiding drain covers, etc. Check out what NRH20 Family Water Park is doing on Facebook for some video post ideas.
Ask your followers to answer true or false questions about water safety. For those who answer correctly, do a random drawing where they can win a prize such as a beach towel, t-shirt or sunglasses.
These are just a few ideas that you can use to build "water awareness" while you wait to reopen your facility. Sharing these types of messages now serves two fantastic purposes, too! First, participating in NWSM allows you to continue to engage with your followers in a more meaningful way, which will help you connect with them later when you do reopen. Second, you can help make a difference in how your future guests behave in and around water — at home and when they venture out again into their local community — you just might save a life in the process.
Learn more about National Water Safety Month.
For more information about NRPA's response to COVID-19, as well as available resources for park and recreation professionals, please see our Coronavirus Disease 2019 (COVID-19) webpage.
Aleatha Ezra is the Director of Park Member Development for the World Waterpark Association.