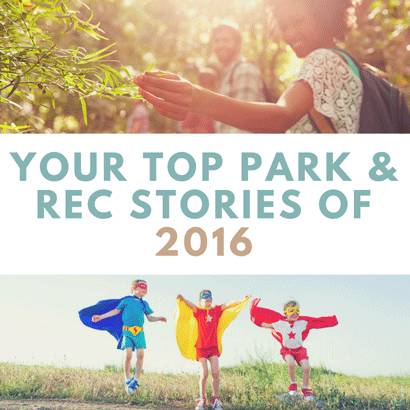 Read an end-of-year news story and you'll likely be met with a list of all the horrific things that happened in 2016. Many analysts, journalists and bloggers are wrapped up in the challenges of the past year as they work on their reflections. Luckily, in our field however, there is always positivity and that's what we want to look back on and embrace this Holiday season and into the New Year.
We aren't blind to the hurdles we have to conquer, but think about this — 2016 was the year someone got married and started a new life with their husband or wife (possibly in your parks or facilities). 2016 was the year someone learned how to swim, made a new friend or went on their first nature hike. To many, many people the services and facilities provided by your agency made 2016 one of the best years of their life.
At NRPA, we were inspired by a member who shared this story of his 105-year-old Aunt who still teaches yoga every week at the Ludington, MI Senior Citizen Center.
Douglas R. Kupper, CPRP, Director of Parks, Recreation, and Cultural Services in Oklahoma City, OK said that his Aunt Lil is one of the reasons he got into the field of parks and recreation.
We were also inspired by this family who visited all 65 parks and open spaces maintained by the City of Rockville, MD. They enjoyed time together as a family while discovering the hidden treasures their city had to offer.
And of course, we are inspired every day by our members whose work makes communities thrive.
This Holiday season, we hope you remember the good things that happened in 2016 and how the work you do helps make every day and every year one of the best for your citizens.
Happy Holidays from all of us at NRPA!
Roxanne Sutton is NRPA's Communications Manager.