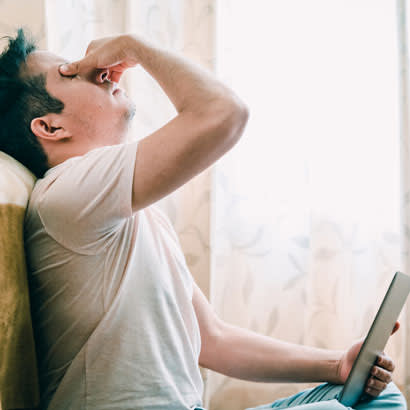 Working remotely, or from home, has become the temporary norm for many professionals as we implement physical distancing measures within our communities and agencies. For many, the experience of working from home is a new and — at times — stressful one. In addition to the anxiety associated with the Coronavirus Disease 2019 (COVID-19) pandemic, there is stress in figuring out how to be a productive professional while negotiating demands from home (i.e., personal responsibilities, spouse/partner, children, etc.). Working from home can also create a feeling of social isolation as your workday is void of those face-to-face interactions with colleagues.
Working from home can also create feelings of panic and disorientation, particularly for those working from home for the first time in their careers. It is a new experience with blurred boundaries between work and non-work experiences. The lack of structure, new working environment, and not having your workplace community around you can be nerve-wracking. Taken collectively, these stresses can have a significant impact on one's mental health.
In helping you adjust to this change in your working environment, I offer the following tips:
Health is important
Your productivity will suffer — regardless of your workplace environment — if you are not healthy. While working from home can reduce commute times, it has also been found to lead professionals to work more intensely with fewer breaks. This increased intensity can heighten feelings of burnout, work fatigue, and further blur of the boundaries between work and personal life. Don't lose sight of your overall health. Take time for yourself — go for a walk, read, play a game with others in your household. To keep a consistent routine, consider engaging in physical exercise at the start of the day before the day's tasks and demands grab your attention.
Embrace the strange
How many times in recent days have we said or heard the phrase, "these are unprecedented times"? Countless updates from the media, all levels of government, and even your own agency have been shared, and each includes combinations of new information, corrections to previous updates and claims of uncertainty. Embrace the fact that there aren't immediate solutions to these challenges, and this is a rapidly changing environment we are living in today. Mistakes will be made. Each of us might miss out on important things. Workflows are likely going to be interrupted. And, this is going to have to be ok. The expectations you normally have for yourself will likely just lead to more stress during the early days of this transition to working remotely. Allow yourself some time to acclimate to this environment. In some ways, it is like starting a new job. Be patient with yourself and those around you. Particularly as you just get started in this working environment. Embrace these times for what they are — outside of the normal routine.
Create a home workspace
If possible, attempt to create a space in your home that is separated from distractions. This could be a separate room in your home or simply a space with limited disruptions. It is also important to communicate with others living in the home to establish clear expectations and boundaries. Discussions on your workspace preferences, busier times during your workday, and even your daily work priorities can help reduce conflict while improving productivity within these spaces. Some studies have even shown that the productivity when working from home can be higher as workers face fewer distractions at work, fewer meetings, fewer office politics, and less time engaging in non-productive conversations with a talkative co-worker.
Establish your work plan
For many, working from your office came with a clearer set of home-work boundaries. Perhaps you arrived at your office at 8 a.m. and you felt a sense of disconnect with work when you left for home around 5 p.m. While the work/home lines were likely blurred with various work-related and personal tasks spilling into one another, there was a stronger sense of a start and stop to your workday in this environment. Now that you are working from home, you may find that you lack a "hard stop" to your workday (i.e., time, carpool responsibility, daycare pick-up, train/bus to catch, etc.). This can make it difficult to stop working when your typical workday from the office might have ended. Establish a new prompt to signal the workday is over. Perhaps it is dinner time or sunset, but whatever your prompt is, use it as a guide to conclude your workday. Communicate a work schedule to your supervisor, work colleagues and your family. Keep an updated (online) calendar to ensure your work associates know when you are, and are not, available. Establish your priorities and goals for the day/week/month and remind everyone when you are working and when you are taking breaks — and try to stick to this schedule.
Effort over time
When feasible, consider counting your effort over your work hours. Ask yourself, how does my work compare to what I did a few weeks ago (from my office)? Is your effort consistent with your production while in your office? Rather than focusing strictly on the work hours you put into your job each day, try to focus on the quality of the work you completed.
Technology-based engagement
There are a lot of communication technologies in the marketplace today (i.e., Skype, Zoom, GoToMeeting, etc.) that can support phone and video-based conferencing. While some may include time-limit restrictions, many of these are free apps and can support small or large group meetings. Consider utilizing these apps to keep staff informed and engaged. While these apps can help you stay engaged with your scheduled committee or project meetings, they can also help facilitate unstructured time with work colleagues. Using these apps for these unstructured times can help staff share stories, advice, tips and overall social support.
One size does not fit all
What works for you in your work-from-home environment may or may not work for others. Rather, you should think about customizing your at-home work experience to ensure it is aligned with you, your job tasks, and personal and professional priorities.
The COVID-19 pandemic has spurred a variety of initiatives and broad sweeping changes across the globe. One of these initiatives is physical distancing, which has resulted in large numbers of professionals working from home. While the duration of these initiatives remains uncertain, it is clear that — for some — working from home can be a stressful experience. In the service-oriented field of parks and recreation where face-to-face interactions are the norm, requiring professionals suddenly to work remotely for an indefinite amount of time, in physically isolated environments is not without challenges. The tips presented above are intended to help you maximize your potential within these work-from-home environments while reducing your stress and maintaining your overall health. And, who knows, some of the most innovative moments in history spur from times when we deviate from those "normal routines!"
For more information about NRPA's response to COVID-19, as well as available resources for park and recreation professionals, please see our Coronavirus Disease 2019 (COVID-19) webpage.
Michael A. Mulvaney is the Recreation and Park Administration Program Director & Associate Professor for the School of Kinesiology & Recreation at Illinois State University.