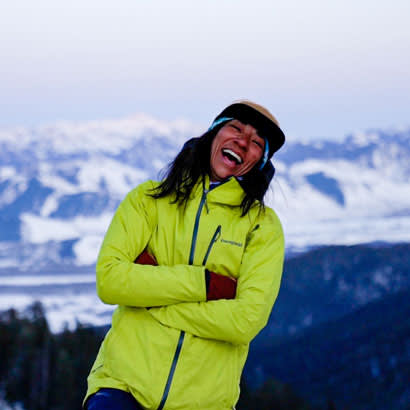 Pictured left: Dani Reyes-Acosta (she/her) laughs while wearing a bright yellow jacket and crossing her arms, with snow-covered mountains behind her. Photo credit: Sophie Danison
We are back for a new year of amazing stories and I can't wait for all the conversations taking place this year on Open Space Radio! To kick off 2022, I'm thrilled to welcome someone who is making some big waves in the outdoor recreation industry.
Dani Reyes-Acosta is a mountain athlete and storyteller rewriting the narrative of who plays outside and how we build community with others on this planet. Originally from Southern California, she has traveled through Argentina, Chile, Mexico, Peru, Andorra, Canada and the U.S. building her mountain craft since 2014, when she graduated from corporate life with a one-way ticket to South America.
A splitboarder, rock climber, mountain runner, and waterwoman, she has been featured in the Washington Post, She Explores, Women on the Road, the Los Angeles Times and regional publications throughout the American West.
Currently partnered with Protect Our Winters, Salomon, Suunto, Trail Butter, Anon Optics and Athletic Brewing, her mission is to inspire individual action and collective communion through self-care and self-determination found in the outdoors. She also works very closely with Latino Outdoors, whose vision is a world where all Latino communities enjoy nature as a safe, inclusive and welcoming place – a world where the outdoors is a place to share and celebrate stories, knowledge and culture, while growing leadership and an active community of Latino outdoor users, mentors and stewards.
Dani's goal as a mountain athlete is to find the limits of her possible, searching for high peaks and ski lines that tell the story of Mother Earth's most impacted places.
Tune in to the full episode below to learn more about Dani, how her love for the outdoors began, and the mission she is on as an athlete and storyteller exploring the human experience. You'll also learn:
How access to the outdoors and recreation has played a role in Dani's life.
Why human-centered design is so critical when thinking of public spaces.
The importance of being a responsible steward of the land and how local park and recreation professionals can provide educational opportunities around environmental stewardship.
How park and recreation professionals can support both tourism and their local community members in their parks and programs.
How we can use our power to create space for those who have historically been underrepresented or left out of outdoor recreation conversations.
What Dani's most proud of thus far in her work, and much more!
Related Links:
Listen to the episode for the full story.