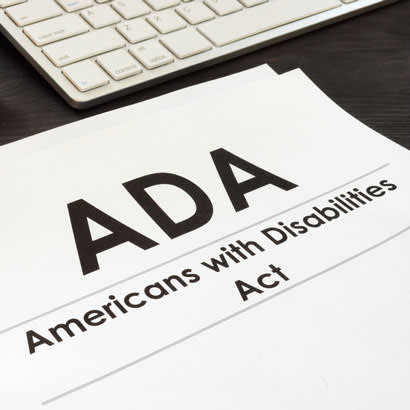 The Americans with Disabilities Act (ADA) became effective for county, city, town, park district, and state programs and facilities on January 26, 1992. President George H.W. Bush signed it into law on July 26, 1990. So, in a way, this most unusual summer is the 30th birthday of the ADA. So how are park and recreation agencies celebrating this aspect of diversity? This post reviews what we know about the ADA, and what some agencies are doing to celebrate access and inclusion.
What do we know about the ADA requirements?
A lot. Thirty years has shown us many good things, and some things we still need to improve.
• People with disabilities — young and old — have the right to the same park and recreation opportunities as do people without disabilities. We all know them by heart: sports, arts, music, social skills, venue participation, fitness, lifelong leisure skills like golf and tennis, fishing, boating, skiing, skating and more.
• Park and recreation agencies must conduct access audits of existing sites and facilities and contrast those sites to state and federal accessibility requirements. The robust requirement for an access audit and a system-wide transition plan is one of the capstones of the ADA regarding state and local governments, and it is also embedded in CAPRA.
• Park and recreation agencies must ensure that new sites — whether addressed by a design standard or not — are accessible to and usable by people with disabilities. It is amazing how many new sites fail. The design may be right, but the contractor had a bad day. Or, the design may be wrong, and the contractor followed her plan to the letter.
• Park and recreation agencies must make communications to the public accessible. That includes e-blasts, cable, PowerPoint presentations, phone systems, and of course, apps, websites and online content. And, don't forget that you have, or will have, employees with health conditions or disabilities that affect their communication skills.
What do we know about ADA enforcement?
Again, a lot. Despite the popular belief that the current administration has scaled back civil rights enforcement, that cannot be said about enforcement of the ADA.
• Playgrounds must be accessible — that means surfaces, ground-level play components, elevated play components, and routes to the playground. The settlement agreement issued in June between the Iowa City Community School District and the federal government hit the key points: surface type, surface maintenance, ground-level play components, elevated play components, and importantly, accessible routes to the playground itself. This is a mind-blowing settlement agreement. If you have playgrounds, you must read this settlement. What will you do when you get a complaint like this?
• Sports programs must be accessible and inclusive. A May 2020 settlement agreement leads the way here, with an elite-level teenage soccer player who is deaf winning the right to have a sign language interpreter paid for by the program, and not by his family.
• Afterschool programs must be accessible and inclusive. From disputes with local governments to nonprofits like YMCAs, the message is clear. Have a process, conduct assessments, create plans and serve all in the community.
• Families of people with disabilities rule here. The Iowa City playground dispute, and almost every other dispute, were driven by families who were fed up with being denied access and inclusion. It is just my opinion, but people do not file a lawsuit because they cannot use your site or be in a program. They file a lawsuit because one of your coworkers provides a poor customer service approach to an inclusion or access discussion. If your answer to an access or inclusion question is a quick "no," perhaps a better approach is to slow down, gather information and then make a decision. A thoughtful and mindful approach is much better than a knee-jerk reaction.
• A helpful way to regularly hear from people with disabilities in your community is to create a disability advisory board and give them something specific to address. An easy one is outreach to underinvested populations — which is a CAPRA requirement, by the way.
• Today, 33 states and the District of Columbia allow the use of medical marijuana. This is a tremendous therapeutic, supported by stacks of clinical research. Have your staff been asked to hold and present medical marijuana gummies for a kid undergoing cancer treatment to alleviate her pain? If you have not, how would you answer the question as to whether this is a reasonable modification under the ADA?
• Some supports for a person with a disability that we might think are too personal may be provided. Medical technology is changing. In 2016, a park and recreation agency won in court after being sued by the U.S. Department of Justice for not rectally administering anti-seizure medication. Less than four years later, though, that medicine is now available in a spray through the nose or the mouth — a big difference. When I worked in parks and recreation, we hired a nurse for summer camp. Yes, a nurse costs more than a camp counselor. But our world did not fall apart. Who on your team keeps current with changes in medical technology?
• Title II of the ADA requires documentation by park and recreation agencies whenever a request for support, because of disability, is denied. Reviewing these written records can be a great "fire drill," allowing agencies to examine those times the answer is no and look for trends — were most by one staff, or one division of the department, or in regard to one registrant or one type of disability? These can also be used to forecast demand, perhaps for use in the budget process. Ask yourself: where in the agency do you go for all of the written documentation for the "no" answers by you and your coworkers?
Who stepped up and did something accessible or inclusive?
Northwest Special Recreation Association (Illinois)
"Our partner park districts knew that their existing facilities needed to be made accessible, so we created an ADA Projects program," said Tracey Crawford, executive director of the Northwest Special Recreation Association (NWSRA) in the northwest suburbs of Chicago. NWSRA is a partnership of 17 local special-purpose park districts, funded by a separate property tax that can be used only to fund NWSRA programs, recreation inclusion and accessibility projects. From 2004 to 2020, NWSRA partners spent $27,760,205 on accessibility projects, for an average of $1,735,013 each year. That amount funded 1,804 projects in 16 years, to make NWSRA partner park district sites more accessible.
Crawford added, "These projects included small projects, like a $61 grant to buy a door pressure gauge so that park district maintenance staff could meet requirements for pounds of force to open a door. But it also includes large projects, such as $127,000 to fund an accessible route through the grass of a large park, connecting the assets in the park-like playgrounds, restrooms and fields."
For more information, visit NWSRA's website.
City of Austin, Texas
For decades, the city of Austin has provided excellent community-based therapeutic recreation programs. From an ADA perspective, it has also been a leader. The parks and recreation department supports inclusion and manages the complex placements for programs that have children and adults with difficult behavior and complex health conditions. Several years ago the department audited all existing sites, and is now implementing a transition plan.
Scottsdale, Arizona
Under Deanna Zuppan, the manager of adaptive programs, Scottsdale has made great strides in serving people with disabilities. The Adaptive Recreation Center was renovated several years ago, and in 2018 a new kitchen was installed, allowing a program expansion. 2018 also saw the funding and development of a sensory room. Scottsdale also supports children and adults with disabilities who choose to recreate in the most integrated setting. Seeing the need for more supports for inclusion, Zuppan added Certified ADA Coordinator to her credentials in 2018.
Western Du Page Special Recreation Association (Illinois)
The Western Du Page Special Recreation Association (WDSRA) is an intergovernmental partnership of nine special-purpose park districts. Formed in 1976, it serves thousands of people with disabilities in the western suburbs. It does so through both community-based therapeutic recreation programs, as well as providing support for people with disabilities who choose inclusive participation.
The WDSRA inclusion team was searching for a simple way to describe the importance of inclusion, and how the recreation inclusion process can work. Jenna Johnson and Maddy Manden created a wonderful, clever, and simple way to do so — and you can see it in this video.
Work like this lets everyone see behind the curtain and recognize that the concepts in recreation inclusion are often very simple — in fact, child's play if you like. It tends to be us that make recreation inclusion complex. For more information, visit WDSRA's website.
Kettering, Ohio
In 2017, the city of Kettering began the access audit and transition plan process, along with some policy and program reviews. ADA Coordinator and Director of Human Resources Sara Mills Klein said, "We knew we were making new sites compliant, but we had not yet addressed our existing facilities and parks." She added, "As we looked at this, especially in our Parks, Recreation, and Cultural Arts Department (PRCA), we realized we already had some great resources in place."
Anna Breidenbach, a PRCA employee who knew the department, knew the city and knew disability issues, was re-tasked to the role of coordinating the response by the city to requests for reasonable modifications. Three years later, Breidenbach has conducted assessments and arranged support for hundreds of Kettering residents. On top of that, the city aggressively began an ADA transition plan project, spending hundreds of thousands annually on retrofits for parks and facilities.
Importantly, big supporters of these initiatives were the city manager and the city council.
City of El Paso, Texas
During the CAPRA process, the need for staff to possess a better understanding of ADA was identified. After the 2019 Texas Recreation and Parks Society conference, the City of El Paso Cultural Affairs and Recreation Department enjoyed a day-long training on every aspect of ADA implementation. Within six months of the training, the department resourced and then hired a manager of inclusion — a huge stride towards ADA compliance.
Eugene, Oregon
"The City of Eugene was fast out of the gate as far as our transition plan, addressing everything from parks and buildings to transportation systems and pedestrian infrastructure," said Andy Fernandez, manager of adaptive programs and senior services for the City of Eugene Recreation Division. "The city continued to update the plan every year," he added.
But the city didn't stop with bricks and mortar. Fernandez oversees staff who consult on the inclusion of people with disabilities with the department's program providers. He said, "Sports, senior centers, aquatics and arts programs have adopted the inclusion mandate well, and our therapeutic recreation staff consults with their staff on behavior, reasonable modifications and rules of conduct."
Lastly, the city is thrilled that the University of Oregon Professional Architecture program uses the recreation division programs as an example — touring soon-to-be-designers and showing the many nuances of design and use by people with disabilities.
Somerset County, New Jersey
Dina Trunzo is a Certified Therapeutic Recreation Specialist and leads the community-based therapeutic recreation programs for Somerset County Park Commission, as well as supporting inclusive recreation participation for 16 municipal recreation departments within the county. She has decades of experience, and when asked, told a story that stood out for her. "We had twins, girls about 7 years old, and one was neuro-typical in her development, and the other was on the autism spectrum. Their father, who coached soccer, came to us because he wanted the girls to be able to play together." Trunzo went on to describe some of the challenges they resolved.
"In soccer, the kids must wear shin guards for safety reasons. The twin on the spectrum was contact-aversive and had difficulty at times wearing shoes and socks, let alone shin guards. Using a behavior system similar to what she uses in school, we came up with a timer reward system for wearing the shin guards and provided an aide to manage behavior and the timer. Everyone thought he was an assistant coach and because he was close to her, she could hear the timer, meaning she could leave the field and take off her shin guards for a few minutes and receive a reward. Then, she would lace 'em up and go back out on the field."
Each practice and game the aide increased the amount of time she had to keep the shin guards on with the goal to have her to keep them on for the full practice and game, in order to be on the field and a part of the team. The next season, Trunzo said, "We worried if we'd be starting from scratch. We were thrilled when at the first practice she calmly put her socks and shoes and shin guards on and ran out on the field with no prompting and left them on for the full practice."
So we ask — who benefits from this extraordinary effort? We see many. The twin on the spectrum, the twin who is typical in her development, the dad, all of the players on that team, all of the players on the other teams, and all of the families of the twins' team. Being creative pays great dividends.
What can we learn from the mandates and these agencies?
There are many things we can learn from these success stories. Here are eight:
Human and fiscal resources are necessary to do this right. Ask this year, next year and every year after that. It is impossible to become ADA compliant without costs for people and infrastructure.
Everyone did not succeed the first time they tried. Do not give up when first attempting compliance. You did not quit when the first attempt at a referendum failed, don't stop after one failure here either.
Community support is critical. There is not one group of people with disabilities in your community. In fact, they are all different in the same ways people without disabilities might be different. Some like sports, some like arts, and some like socializing. Some have communication disabilities, some have cognitive disabilities, and some have physical disabilities. Learning your communities and their preferences help make the programs you offer more successful and responsive to community interests.
You must know the ADA basics. Too many agencies call us after a "whoops" moment by a staff member. Make inservice and preservice training a part of your continuing education diet, and assure that when your staff goes to a state or national conference, that there is some involvement in ADA compliance sessions.
Follow the court decisions and settlement agreements. The last people you want to argue with are the United States Department of Justice. Know some of the key decisions, like Burriola v. Greater Toledo YMCA; U.S. v. NISRA; and West Palm Beach, Anderson, and Barden v. Sacramento. Know the settlement agreements, like the recent Iowa City school playground settlement, and the Colorado deaf soccer player settlement. Use these court decisions and settlement agreements as your own "fire drill" and ask how your agency would have handled the issues.
Make your website accessible. Although there is not a final and enforceable federal standard, the industry has created the Website Content Accessibility Guideline. Your agency communications must be accessible, and this is the best resource available. Use It! And, remember to use images of people with disabilities so they see someone like themselves at your sites and in your programs.
Remember that your agency is not the only one implementing Title II. Counties, cities, park districts and school districts are all seeing ADA successes. Share how your agency has addressed a difficult ADA situation, and listen as other agencies share how they solved the ADA problem you have not yet solved.
We are in the COVID-19 area — the way the demand for inclusive recreation opportunities returns for your department will be different than in prior years. Just remember that the ADA is not suspended. In fact, robust enforcement continues.
Resources and conclusion
Remember that the ADA sets a floor, not a ceiling. In the true spirit of the ADA, ask yourself what more could your agency do that would be more inclusive of people with disabilities? Every CAPRA agency exceeds the minimum, so take the same approach for service to people with disabilities. In our experience, the agencies that reluctantly implement Title II are the first agencies to find themselves on the wrong end of an access or inclusion dispute.
There are many resources:
For park assets and facilities, contact the U.S. Access Board. Give them a call at 202-272-0080 or visit their website. This agency gives the best technical assistance regarding the designed or constructed environment.
For policies and programs, and the inclusion mandate, reach the U.S. Department of Justice Civil Rights Division ADA office. Give them a call at 202-514-0301 or visit the website. The website is filled with settlement agreements and helpful technical assistance papers.
For a little bit of everything and to get a second opinion, reach out to the National ADA Network. Call 800-949-4232 or visit their website. The network also created the Certified ADA Coordinator credential, a great addition for a CTRS, CPRP or CPRE.
Your state park and recreation association is an underused resource. Another agency in your state has solved the very problem on your screen today. From Oregon to Massachusetts, state associations have helped their members better understand the ADA.
NRPA is committed to ADA compliance. Reach out to Hayley Herzing, NRPA's Senior Manager of Membership for information about NRPA's accessibility initiatives.
Lastly, NRPA's member benefit partner, The WT Group, LLC/Accessibility Practice, enjoys helping park and recreation agencies find solutions to ADA requirements. You can reach me, John McGovern, at 224-293-6451 or send me an email — you will get an answer.
John McGovern has more than 30 years of experience in parks and recreation and is a Partner and Principal in Charge for WT Group, LLC/Accessibility Practice.