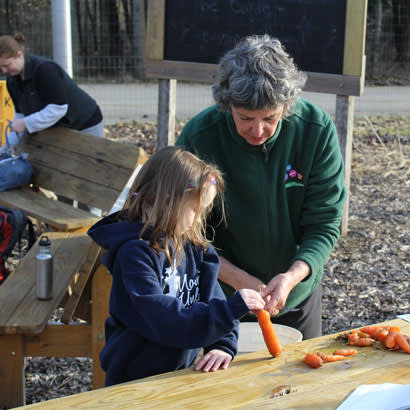 For Pennsylvanians living in Meadville, enjoying the outdoors while participating in a variety of intergenerational activities is the norm. Intergenerational activities increase cooperation, interaction and meaningful exchanges between people of different generations, and have significantly increased and diversified since the launch of the first intergenerational program, Foster Grandparents, in 1963.
For older adults, intergenerational activities are crucial because of the increasing prevalence of socially isolated and lonely older adults. Studies have shown that older adults who regularly volunteer with children are more active, experience fewer falls, are less reliant on canes, and perform better on memory tests. Improved social skills, academic performance and a sense of stability are a few of the many benefits for children participating in these activities. Furthermore, intergenerational activities enhance socialization and social supports, improved attitudes towards aging, as well as increase community collaboration and cultural exchanges.
Centrally located on the grounds of the Meadville Area Recreation Complex (MARC), the MARC Community Garden, entering its fifth season, is a gathering place for residents from infants to nonagenarians. Gardening provides activities for people of all ages, skills and abilities to be involved with tasks varying from low-impact weeding to the high-energy activities such as moving wheelbarrows loaded with compost and mulch. Many people also enjoy taking the time to sit in our outdoor classroom area and socialize, while calling out occasional words of encouragement (or friendly teasing!) to others in the garden.
With so many ways to become engaged, it's no wonder that we frequently see folks of different ages helping and learning from one another in our garden all season long. Barb, an avid gardener, has been involved in the garden since its initial planning began in 2014. Now retired, we frequently see her helping our youngest gardeners, from planting to cleaning produce they have harvested.
The garden offers a peaceful growing space and a different way to be active in addition to the swimming pool, ice rink, tennis courts and other amenities of the MARC. Some residents prefer to rent their own plot, where they can plant and harvest whatever they would like to eat. Others regularly volunteer through our "Friends of the Garden" program, helping to maintain our shared garden areas that everyone can harvest from when the produce is ripe. Others show up to learn from or teach the weekly gardening and cooking workshops that are offered throughout the summer. These are punctuated with monthly garden potlucks, where members share delicious meals often made with produce harvested that day — on picnic tables in the garden.
Our community garden has had much success in bringing different generations together. For Meadville residents, a sense of community and collaboration is just one of the many benefits.
Kerstin Ams was the Garden Manager at Meadville Area Recreation Complex from 2014 to 2018.