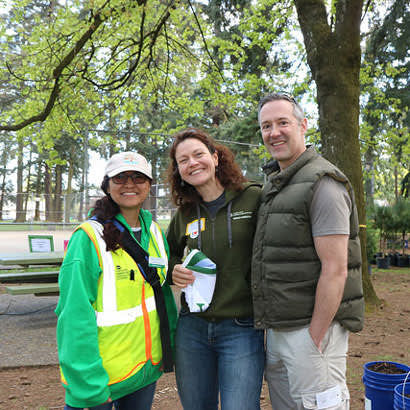 Tualatin Riverkeepers (TRK) is a community-based organization working to protect and restore Oregon's Tualatin River system. TRK builds watershed stewardship through education, public access to nature, restoration and advocacy. TRK was established in 1993, when the Tualatin River was once referred to as the "Toiletin River" and one of the dirtiest rivers in Oregon. Through grassroots organizing and community involvement, the Tualatin River is now a place for paddlers, swimmers and wildlife.
TRK continues to push for higher water quality standards and ensure that natural resources are protected in the Tualatin River Watershed. We recognize that the watershed is a diverse place and there are many needs and users that demand the Tualatin River to be a clean water source. As such, we have worked over the last decade to incorporate equitable outcomes in our work, and empower the diverse stakeholders to take action in order to care for our unique river. The Tualatin River Watershed is 90 percent within Washington County, which has the second-highest population and is the second-highest ethnically diverse county in the state of Oregon. TRK is working with organizations in the region to create opportunities for all to become involved in protecting, restoring and enjoying the Tualatin River.
In Fall 2016, TRK, Centro Cultural de Washington County (Centro) and Muslim Educational Trust (MET) launched an exciting new opportunity in the Tualatin River Watershed, the Urban Forestry Job Training Program. The program provided communities of color in Washington County with education and job experience related to urban forestry. People of color are severely under-represented in environmental/green occupations. Despite accounting for 36 percent of the U.S. population, people of color make up just 16 percent of employees at environmental non-profits, government agencies and philanthropic foundations — and only 12 percent of leadership positions at those organizations (Dorceta E. Taylor, 2014).
This program was, and still is, an opportunity for three organizations, with very different missions, to partner in order to offer historically underserved communities an opportunity to engage with professionals in environmental careers and to build on their environmental experience. The program began as a once-a-week evening class for eight weeks, with presentations on tree health, restoration plans and proper planting techniques. After the classroom session, each student would be placed with a 100-hour internship with local cities and non-governmental organizations that were doing urban forestry work.
This fall, we will be entering our third year of the program and have expanded it to a nine month program that includes workshops, more hands-on experience and skill-building, and a wider breadth of topics that not only include urban forestry, but natural resources as a whole. We will be providing trainings in water quality testing, wildlife monitoring, restoration and enhancement techniques, and green infrastructure.
The green infrastructure and low-impact development (LID) sessions were made possible by the National Recreation and Park Association and Southwest Airlines Green Stormwater Infrastructure Community Outreach and Education Grant. This upcoming September and October, a cohort of students from the Muslim and Latinx communities will have two field sessions and four classroom sessions regarding green infrastructure in our region. The field sessions will include two tours of sites that have incorporated green infrastructure and implemented stormwater mitigation techniques into their design and construction. The tours will be guided by staff from Tualatin Hills Park and Recreation District (THPRD) and staff from our regional water resources management utility. We are partnering with THPRD because of their commitment to diversity and inclusion, as well as their dedication to sustainability and preservation of natural areas.
This upcoming year THPRD will host an intern from the cohort for the first time. Our hope is that the intern will then apply for one of the many seasonal jobs THPRD has to offer, and then potentially to a permanent position. The classroom sessions will not only include an introduction to the topic and some of the challenges our region faces with stormwater, but the cohort will also be able to create and design green infrastructure solutions for their neighborhood.
Ruby Buchholtz is the River Advocacy Manager at Tualatin Riverkeepers.