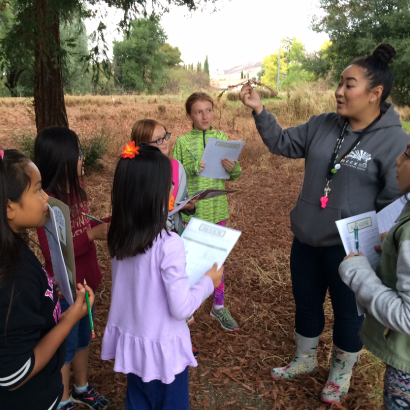 Editor's Note: March is the perfect time to start planning a nature discovery program for your out-of-school time youth. Wildlife Explorers is an easy-to-implement program designed to be led by anyone—no matter their experience with nature education. Download the workbook now and be ready to introduce your youth to nature during Earth Month in April. Anyone who downloads the workbook in March will be entered into a contest to receive 10 printed workbooks and Wildlife Explorers swag to kick-off your program.


Get started on your Wildlife Explorers program with this great advice from a seasoned Wildlife Explorers leader.
When my supervisor told me that was going to be about nature and local habitats, I knew that I wanted to encourage my students to have an open mind and open heart. NRPA piloted the program at my site, Majestic Way Elementary School in San Jose, CA.
I have been leading the afterschool program at this site for the past three years. Despite always being aware of my surroundings, I didn't actually know the specifics of the natural life around me. Leading Wildlife Explorers was a fantastic opportunity to acquaint myself with the local wildlife, since it was something I always wanted to learn about. I work with children ages 3 to 13 and have always stressed importance of leaving wildlife at peace. If there was anything I wanted my students to take away from the Wildlife Explorers program, it was for them to broaden their minds and understand their place within our ecosystem and that there is more life than just human life.
Initially, I did not feel confident because I did not know much about the native plants and animals. I did know, though, that I didn't want to use my phone and Google everything we came across. I wanted to be able to identify the plants and animals and address their characteristics. In order to make this experience valuable and informative for the students, I took it upon myself to research the bugs, insects and critters that I have seen frequenting our school grounds. Being a Wildlife Explorer is not about memorizing key terms and concepts, but rather simply immersing yourself in nature and everything it holds. Personally, I found the information and research fascinating, so it was fun and enlightening.
Here is my advice for other leaders getting ready to embark on this journey.
Make yourself familiar with your materials and resources before you start the program. Knowing the area within your site and the concepts and ideas in the workbook will help you plan and keep you organized.


Regardless of the size of space you have, explore your grounds ahead of time. This will enable you get a close up of all the foliage, find comfortable and safe paths to lead your children, and identify any substitutions that you will have to make within your workbooks. If you look through the workbook ahead of time and look at the chapters in depth, you will see what each chapter focuses on. If your site does not have a particular type of wildlife or foliage, find a substitute for it. For example, my school site did not have pigeons, so instead of doing Pigeon Study in Chapter 4; we studied lizards.


Be mindful of the season when you start your program. Not all wildlife and foliage are present in every season.


Don't be afraid to improvise! On a day that we were expecting rain, I skipped ahead to Chapter 5 which focused on water. I enjoyed pairing crafts and science activities with certain chapters. For Chapter 5, I briefly talked about earthworms since we always see them come out when it rains and I had an edible craft that went along with it. I also took the opportunity to talk about conserving water. We made a water filter with a water bottle demonstrating how water can be cleaned and purified. We discussed the importance of clean water and the effects of its scarcity.


You don't have to love everything about nature to be able to lead this program. But passion and curiosity will surely help.


Your students will be a great guide to finding what topics to further explore. Their questions and thoughts will be insightful indicators for new subject matter.
One of the things that I enjoyed most about Wildlife Explorers was just walking with my students. It could be the walk back to the cafeteria or the walk to another part of the park. Along the way they always told me what they saw. They saw life. They saw life in the metal fence where a spider had spun its web. They saw life in what looked like a dry patch of grass which was actually a moth in disguise. They saw life in everything and I saw life in their eyes. Wildlife Explorers is a program that I am proud to have been a part of, one that I am still engaged with in my present, and one that I look forward to returning to in the future.
Kim Tuong is the Recreation Leader at the City of San Jose.