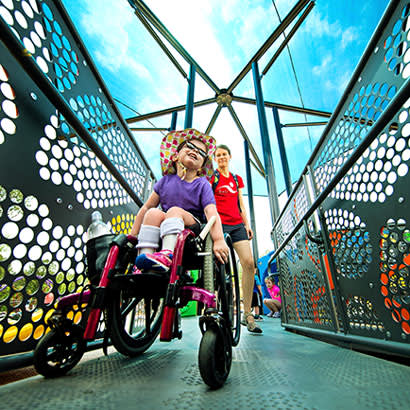 As we prepare for the upcoming year, we carefully consider the issues communities face, the challenges they overcome, and their goals for improving the overall quality of life. We also analyze data and feedback from leading park and recreation professionals, landscape architects, and educators to determine trends in park and playground products for 2021. These trends indicate the industry's direction in the upcoming year while simultaneously calling attention to innovations from 2020.1:50:21
"As an industry leader in innovation and improvement, GameTime hopes to shed some light on park and playground trends for 2021," said Fred Wiechmann, GameTime vice president of marketing and product development. "By listening to communities and the leading voices in our industry, we hope to provide the communities we serve with updated, accurate information on the state of play." Here are the top five park and playground trends for 2021:
1. Inclusion and Equity
The first significant trend for 2021 is the growth and improvement of inclusive playgrounds. Although accessible, universally designed playgrounds have been increasing in popularity over the past few years. The year 2021 will take these playgrounds to another level.
In 2020, GameTime saw architects and designers expand on the concept of inclusive design to move beyond the basics of meeting the Americans with Disabilities Act (ADA) standards. Using research and design best practices, like the information found in Me2: 7 Principles of Inclusive Playground Design®, playground designers consider the role of accessible playground equipment and multi-generational play in the pursuit of social equity.
As we near our second century of playground design, GameTime will continue to leverage inclusive play to bring people together and overcome societal barriers. In the coming year and beyond, comprehensive, inclusive play will play an integral role in the industry's approach to playground design.