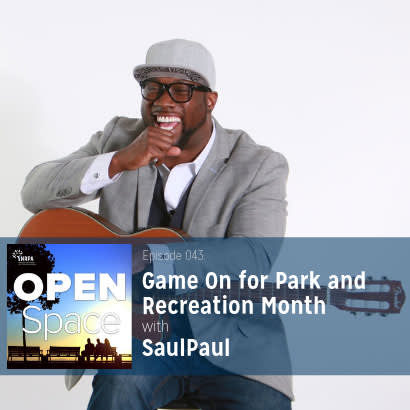 Happy Park and Recreation Month! Throughout July, we celebrate all of the great things that are happening in local parks and recreation centers nationwide. This year's theme for Park and Recreation Month is Game On, and we're excited to have some fun all month long!
We're joined today by SaulPaul, a musician with a message. SaulPaul was a keynote speaker at the 2018 NRPA Annual Conference in Indianapolis, and he's back to help us celebrate Park and Recreation Month this year.
On this episode, we chat with SaulPaul about why he decided to spread his "Be the Change" message to local park and recreation departments, and the work that he's been doing in communities across the country to entertain, inspire and empower people of all ages and abilities. We also talk about why he feels parks and recreation is so vital to every community, as well as how he's celebrating Park and Recreation Month!
SaulPaul also explains the inspiration for the #ParkRecTwoStepChallenge, a video contest open throughout July encouraging people to get creative, active and have some fun! Tune in to the episode below to learn more — and find out how you can win weekly prizes and the chance to have SaulPaul come film the official Park Rec Two Step music video in your hometown!
Listen to the episode for the full story.
Related Links: