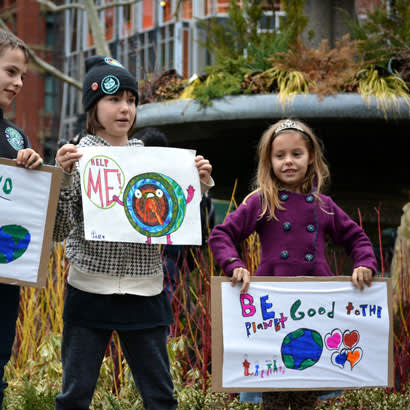 The Intergovernmental Panel on Climate Change (IPCC) of the United Nations has issued an updated report, just released in February 2022. The Sixth Assessment Report of the second IPCC Working Group on Impacts, Adaptation and Vulnerability has a notable number of takeaways for parks. While the report is primarily an assessment of the impacts of global climate change conditions, it contains several implementable strategies to improve the climate resilience of people and nature.
There is no longer any question that climate change is happening, that the pace of climate change is accelerating, and that the stresses and shocks from a rapidly warming climate will affect us for decades to come even if concerted efforts are taken worldwide to slow the rate of change. Yet there is still a high degree of confidence and optimism that if positive actions are taken to reverse these trends, the devastating effects that could happen will be far less likely, and the time gained to prevent the worst of impacts will allow for better planning and action to prevent such impacts from occurring. And, parks can play an outsized role in protecting nature, human health and the environment.
Given the critical role that parks and recreation play in protecting lands and waters, many of the recommended actions of the IPCC report can be implemented at the local and regional level by park and recreation agencies, working in concert with other government agencies, the private sector and the general public. It has never been more important that park and recreation agencies take up the challenge of adapting to climate change by assessing the risks of climate change impacts, planning adaptation strategies, and implementing action plans to mitigate the changes that are inevitably coming from a rapidly warming climate.
As the report states, "One key to success is acknowledging climate, biodiversity, and human society as a coupled system, meaning that all components are interlinked. If we change one of them, it will affect the other two as well. Based on this recognition, conservation and climate change responses would be planned and implemented hand in hand — not only locally, but across landscapes, in cities as well as in rural areas, across sectors, state and country borders. All actions and decisions would be based on the overarching goal to get the best outcomes for climate, biodiversity and the people living in the areas, where actions will be implemented."
1. Cities and coastal communities don't need more seawalls but do need wetlands and living shorelines
The IPCC report states that the cost of seawalls to resist sea-level rise and storm surge is much greater than using living shorelines and planted wetlands. Natural approaches to controlling sea level rise and flooding from storms are a much better solution for park and recreation agencies than hardened shorelines and seawalls, not only for improving sustainability, but because park and recreation agencies are the best-positioned to manage and maintain these areas. Further, because park and recreation agencies are most likely to be the owners and managers of such living shorelines, it means that it will expand the role of parks as critical infrastructure.
Green infrastructure approaches are largely low-tech, less expensive, and can sometimes be prepared and planted by youth conservation corps, volunteers and seasonal workers. They can provide shoreline protection, increase biodiversity, expand wildlife viewing and nature-based recreation, and engage the community in volunteer planting, restoration and education activities.
2. The increasing risk of extreme heat puts everyone at greater risk, especially the elderly, children and youth, low-income communities, and those who must work outside
There are multiple references within the report about societal vulnerabilities from extreme heat. Such heat affects certain populations much more than it does those who have means, live and work in air-conditioned spaces, and have high-quality health care. With higher ambient temperatures in the day and at night comes not just risks of heat-related stress and illnesses, but also significantly reduced air quality. Those who must work outdoors during the heat of the day and those in urban settings where heat island effects are greatest are the most vulnerable to heat-related stresses.
Extreme heat in vast areas of the United States will continue to spread and even increase average daily and seasonal temperatures. Much of the park and recreation workforce must work outdoors, including park maintenance, program staff, day camp and playground leaders, and park management staff. In addition, program participants — especially children — will be affected at a greater rate and with greater risk.
Park planners, managers and program leaders must develop new strategies to adapt to the crushing burdens of extreme heat. This may mean different hours for programs, split shifts to work in less hot periods of the day, better health screenings, and other innovative approaches to reduce heat loads on people. The health of our workers, park patrons and program participants, especially children, demands new thinking about how to combat extreme heat.
3. Continuous adaptation to changing climate conditions is vital, and parks and recreation can lead the way in educating the public about risks and solutions
The report notes — as the IPCC reports have done since they began — that global temperature warming above 1.5 degrees Centigrade is a pivotal threshold. Above 1.5 degrees of warming, adaptation measures will continue to have fewer positive effects in reducing warming. "By investing in adaptation now, the world will avoid higher investments in the future because the potential benefits of adaptation activities outweigh their costs in the long term," the report states.
Parks and recreation have an additional and perhaps unique opportunity to contribute to the challenge of climate change. Parks and recreation can model best management practices and practical solutions for adapting to climate change to the public at the individual level, the home and business owner, and at the landscape level. What we do now to combat climate change can be seen and emulated by millions of people. No other public sector has this kind of reach.
4. Improving habitat for wildlife species in parks threatened by climate change can enhance and protect biodiversity
The report makes multiple references to the ability of natural systems to adapt to climate change and notes that there are finite limits to such adaptation. In addition, the report notes "…the increasingly severe, interconnected and often irreversible impacts of climate change on ecosystems, biodiversity, and human systems…" Protected lands, both public and private, are reservoirs of biodiversity and ecosystem resiliency. However, parks are once again unique in that the majority of local, urban and regional parks are located in densely populated areas and can have a multiplier effect on protecting and conserving native and migratory wildlife species, indigenous plant species, and a wide range of biodiversity that could otherwise not be protected.
Park and recreation agencies should conduct adequate surveys of their natural resources to identify and locate not just rare, threatened and endangered species, but also those in need of conservation — and place a high value on long-term protection and restoration plans to restore those species. For example, pollinators almost everywhere are threatened and declining. Park and recreation agencies, working with the public and other governmental agencies, can lead the way in re-establishing declining pollinator species by creating and restoring suitable habitats for them.
5. Those who are most vulnerable to climate change are most at risk from the damaging impacts on human health, social cohesion and sustainable economic development
Parks alone cannot solve the vulnerabilities of people and communities to the negative impacts of climate change. However, what parks and recreation can do is provide. Safeguarding nature in parks and providing healthy places for people to play and live is something that we can achieve. However, as the report notes, "An overall increase in climate resilience requires two combined sets of actions: first, a wide range of actions that reduce human-induced greenhouse gas emissions drastically; secondly, a similarly wide range of actions that transform the way we live our lives and puts human society on the path of sustainable development."
Many park and recreation systems have perpetuated inequities from previous decades including inequitable budgets, a lack of equal and equitable recreation facilities, and parks with far less environmental quality in low-income communities and communities of color. These are the most important inequities to correct as the pace of climate change accelerates. As the report states, "The earlier these changes are implemented, with an emphasis on equity and justice, the more options and solutions for Climate Resilient Development will become available. We don't have any time to lose."
For a more detailed look at how parks are inevitably changing due to a changing climate and how agencies can meet the challenges posed by climate change, see Dolesh's feature story in the April 2022 issue of Parks & Recreation magazine.
Richard J. Dolesh (he/him) is NRPA's retired Vice President of Strategic Initiatives and Editor-at-Large for Parks & Recreation magazine.