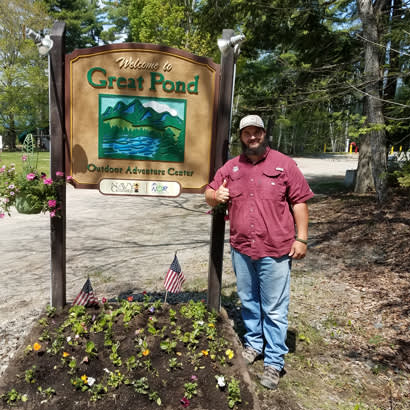 My name is Gregory Dunn, and I am here to recruit you to the Morale, Welfare and Recreation (MWR) division! After six years of service in the Army, I entered the workforce chasing big paychecks, which took me to the oil field, a security job with a large corporation, and off to college to study engineering — but none of them lasted. I wanted something more, not a nine-to-five. I wanted something with a purpose. So, I changed my major to recreation, parks and tourism sciences, and pursued a career in MWR.
During my time in the Army, I used several services provided by MWR, from daily trips to the fitness center to deep sea fishing in Alaska, to volunteering with the Better Opportunities for Single Soldiers program. These services were vital to my overall health and wellness, and I never realized how they would impact my career and provide purpose to my post-military life.
After leaving the Army, I noticed that my overall wellness was deteriorating. I gained a lot of weight, I stopped enjoying my hobbies, and I consumed more bourbon than I should have. But, I was making a lot of money in the oil field, which didn't make sense to me — more money meant more happiness, I thought. After several long discussions with friends and, more importantly, my wife, I knew I needed a change of direction in life. I wanted to find a job that made me happy and gave me purpose.
After changing majors from engineering to recreation, park and tourism sciences at Texas A&M, I focused all my efforts on how to get a job in military recreation. My MWR career started at the Great Pond Outdoor Adventure Center in Maine as an intern, where I provided daily activities for the guests. This is where I fell in love with working and serving those who serve. The guests constantly showed why working with the military is truly a special gift:
Guest: "Hey Greg, we made too much steak, you want some?" Me: "Yes please."
Guest: "Greg, we are out of here, I left some beers in the cabin for you." Me: "Thank you!"
Guest: "Let us clean up, you've done enough work today." Me: "No, I'm the one getting paid." *After making a huge mess at an ice cream social.
Guest: "Thanks for the boat ride captain, here's a little something for you." Me: "Sorry I can't accept tips." *Shoves a $10 bill in my life jacket and walks away.
These were reminders every day of how appreciative the guests were; even though they were the ones on vacation, they were still putting others first. I will always appreciate the sacrifices the military members and their families make, and it was a blessing to work for them.
After Maine, I headed to Texas, where I started as a recreation assistant at Naval Air Station Fort Worth, working my way up to supervisory recreation specialist. This is where I learned about "other duties as assigned," which became my second favorite thing about working with MWR and recreation. I was and could be anything:
Bingo caller
Log rolling instructor
TRX trainer
Bartender
Bowling pinsetter mechanic
Disc golf course designer
And so many more little duties
Every day was different, every day was exciting and every day had a purpose.
The opportunities in MWR are endless. There are military bases all over the world, including Japan, Korea, Italy and Germany. There are also special jobs, such as a fun boss on a Navy ship, where the MWR professional goes out to sea for months at a time, providing the main source of fun on the ship for the sailors. It's not just recreation jobs, either. There are positions in fitness, youth development, finance, marketing and more. If you're looking for a job that will take you around the world, MWR is it. I will forever preach about jobs in MWR to anyone who will listen, especially recent college graduates and young professionals. To me, it was the perfect start to a recreation career and learning about purpose. While I no longer work with MWR, I know one day my path will lead back to it.
If you are interested in learning more, check out the Armed Force Recreation Networks (AFRN) community on NRPA Connect or on AFRN's Facebook group.
Gregory M. Dunn is a recreation specialist at City of Murphy, Texas.
This blog post was written in partnership with the NRPA Young Professionals Network (YPN). Learn more about the NRPA YPN on NRPA Connect or on the YPN Facebook group.