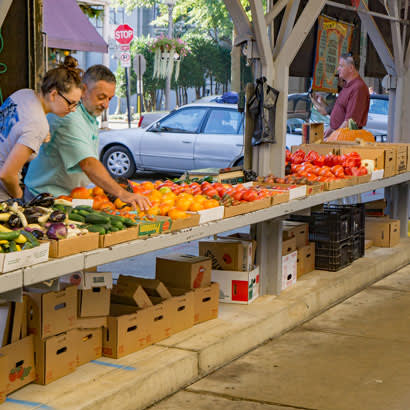 Now more than ever, accessing fresh, local food is a key component of staying healthy and supporting the agricultural economy. Although not deemed essential in every community, many areas of the country are prioritizing access to farmers markets and encouraging community members that eating healthy, fresh foods is a large part of staying healthy during the COVID-19 pandemic.
The results of a recent NRPA Parks Snapshot showed that 25 percent of farmers markets hosted at park and recreation sites have remained open to the public during the pandemic. However, that doesn't mean it is business as usual. As businesses, farmers markets follow the same guidance we've grown accustomed to — physical distancing, no physical interaction and streamlining processes when able.
Park and recreation leaders from across the country who host farmers markets shared through the most recent Parks Snapshot survey how they're engaging in safe behaviors, while still providing an essential service to their communities:
85 percent of markets display signage highlighting proper physical distancing protocols
71 percent of markets are spacing out vendor stalls to limit congregation, while 35 percent of markets are limiting the actual number of vendors at each market
68 percent of markets have postponed or canceled programming at market sites, including cooking demos, taste tests and family engagement activities
62 percent of markets provide handwashing stations or hand sanitizer at vendor stalls
56 percent of markets offer online ordering and curbside pickups to minimize physical interaction
53 percent of markets limit the number of customers inside the farmers market at any one time
29 percent of markets only accept payments through touch-free methods using credit, debit or Supplemental Nutrition Assistance Program electronic benefits card (SNAP EBT)
While the efforts of the people operating these markets in slowing the spread of COVID-19 while supporting the community is uplifting, this isn't the reality for everyone. In many states and local communities, farmers markets have not been deemed essential, meaning they cannot operate for the foreseeable future. Not only does this limit access to healthy foods, but it also stifles the local economy. Advocates of markets — like the Farmers Market Coalition — are fighting for federal legislation to support markets, including ensuring that farmers who sell through direct channels are involved in the stimulus relief package.
There are also challenges involved in the innovation of markets. While so many have shifted to an online ordering process, this can be a barrier to those who use SNAP EBT to purchase produce at markets. There is currently no congruent system that allows for EBT funds to be used online — the card must be used in person, on a physical machine. However, realizing this as a barrier, some states are engaging in pilot programs to utilize online or telephone EBT processing.
The solutions to current challenges can also inspire solutions and change for our future. Identifying the barriers that exist — like accepting SNAP remotely — are key in ensuring equitable access to the benefits of farmers markets for years to come, starting now.
For more information about NRPA's response to COVID-19, as well as available resources for park and recreation professionals, please see our Coronavirus Disease 2019 (COVID-19) webpage.
Maureen Acquino is a Program Manager at NRPA.